Tuesday, February 24, 2015, 4:07 PM ET
|
More evidence of TV Everywhere's momentum today, as FreeWheel's Q4 2014 Video Monetization Report found that 56% of long-form and live ads were viewed via authentication. That's more than 4x greater than the 13% authentication rate for long-form content in Q4 '13. Total long-form viewing was up 43% in Q4 '14 vs. the prior year.

The new data follows Comcast's news last week that 30% of its Xfinity TV subscribers use TV Everywhere monthly. (Note Comcast owns FreeWheel).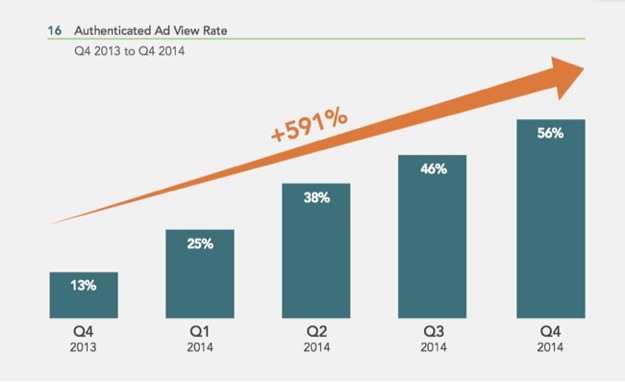 A key part of authenticated viewing's growth can be traced to the dramatic growth of live sports and also viewing of broadcast TV online. Ad views in live programming increased to 23.2% of all ad views in Q4 '14, up from 9.9% in Q4 '13, a 297% increase. Once again, sports contributed 83% of live ad views in Q4, led by the college football bowl season. Live sports had a huge 2014, which also included the Winter Olympics, World Cup, March Madness and NBA playoffs.

While sports is continuing to educate viewers about TV Everywhere's value, in Q4 FreeWheel noted for the first time the impact of current seasons of broadcast TV network programs. Ad views in Q4 '14 on first-run content grew 67% vs. the prior year. 94% of the quarter's broadcast views were on current programming vs. archive (which is mostly on SVOD services).

Of note, 64% of first-run ad views occurred 8+ days after linear air date, with just 28% in the first 3 days of airing. Clearly, with advertising sold mainly in Live+3, this viewing shift has huge implications.

Stepping back, FreeWheel said full year 2014 total ad views were up 30% vs. 2013, with video views up 27%. Desktop/laptop remained by far the most popular viewing device, at 76% of all ad views, with smartphones next at 13%, followed by tablet (6%) and OTT device (5%). For Q4 ad views, OTT devices nudged past tablets (8% to 7%).

Desktop/laptop popularity owes to short-form content which accounts for 70% of viewership. Conversely, 91% of OTT device viewing is either long-form or live.