Wednesday, November 18, 2015, 12:11 PM ET
|
FreeWheel has released its Q3 '15 Video Monetization Report (VMR), which reveals the continuation of a number of important industry trends. Both ad views and video views grew 28% vs. Q3 '14, consistent with growth rates seen over the past few quarters.

Live video was once again the fastest-growing genre, with a 113% year-over-year growth, compared to 30% for long-form and 9% for short-form. Sports was again the biggest driver of live with 63% of sports video viewed live, compared with 17% of news video viewed live (other genres were in low single digits). News had the biggest proportion of short-form (76%), while Entertainment (60%) ad Kids (59%) had the biggest proportion of long-form.
Overall, Sports also had the highest share of ad views in the quarter (31%), followed by Entertainment (31%) and News and Music (each 13%). However, when looked at on a daypart basis, Entertainment dominated, accounting for between 64% (in early morning) to 83% (in early fringe) of all viewing.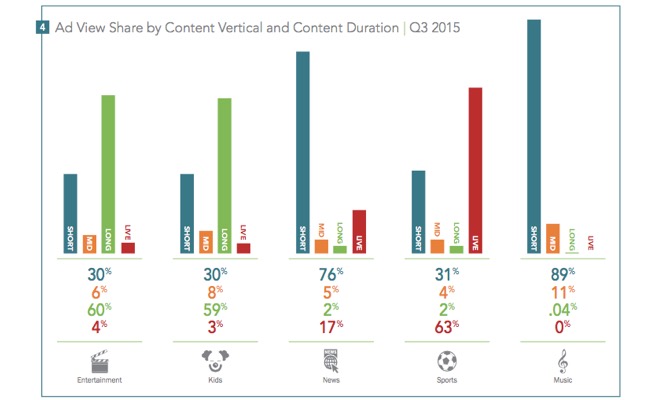 Desktops/laptop continued their decline as the preferred viewing device, with a 52% share in Q3 '15, down from 73% share in Q3 '14. Smartphones increased from 14% to 19%, tablets from 7% to 10%, OTT devices from 6% to 13%. For the first time, FreeWheel also broke out pay-TV operators' set-top box VOD ad views, which accounted for 6% of total ad views in Q3 '15.

The share breakdown among connected devices remained relatively constant vs. Q2 '14, with leaders Apple TV at 38% (vs. 39% in Q2), Roku at 31% (vs. 32% in Q2) and Gaming Consoles at 20% (vs. 15% in Q2).

Importantly, TV Everywhere viewing continued to increase in Q3 '15, with 65% of ad views in long-form content being authenticated. That's up from 46% in Q3 '14 and the highest rate FreeWheel has ever reported. TVE access to premium content is the most critical pay-TV initiative for leveling the playing field with SVOD providers.

Finally, FreeWheel found that the duration of mid-roll ad breaks continues to expand, and especially live viewing, is becoming more TV like. In Q3 '15, mid-roll ad breaks for live programming were 112 seconds (with 5.4 ads per break) and for on-demand programming were 91 seconds (with almost 4 ads per break).

This compares to 87 seconds (with 3.5 ads) in Q3 '13 and 101 seconds (with 4 ads) in Q3 '14 for blended live and on-demand. FreeWheel noted that live ad breaks typically follow linear TV, while in on-demand, there's more experimentation with ad approaches.

FreeWheel also included data on the European market as well as a range of other valuable data. The FreeWheel quarterly VMR continues to be one of the best snapshots of how premium online video is consumed and monetized.

The full report isn't available for download yet, but I'll update this link as soon as it is.