Tuesday, August 25, 2015, 12:13 PM ET
|
FreeWheel has released its Q2 '15 Video Monetization Report, finding once again that long-form and live viewing drove the biggest increases in video ad views. Live viewing increased 146% vs. Q2 '14 with long-form up 26% vs. Q2 '14. Short-form again lagged, up just 16% year-over-year. Overall, ad views increased by 32% and video views increased by 25%, both vs. Q2 '14.

For broadcast and cable TV networks plus pay-TV operators (which FreeWheel calls "programmers"), 66% of their ad views in Q2 '15 came from the combination of long-form (35%) and live (31%). As always, the biggest share of live viewing was sports at 78% (though that was down from 82% in Q1 '15), distantly followed by news at 15%. For long-form, scripted drama had the highest share (42%), followed by reality (26%) and comedy (17%).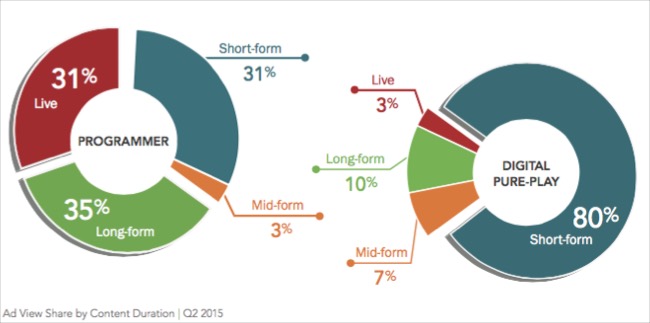 Meanwhile "digital pure-play publishers" (which generate majority of their revenue from IP-based environments), saw 80% of their ad views come from short-form, with just 10% from long-form and 3% from live. For videos under 2 minutes, news accounted for 40% share, followed by sports at 31%. For videos 2-5 minutes, music dominated with a 46% share, followed by news at 17%.

Desktop viewing dropped to 62% of all ad views, from 67% in Q1 '15. Smartphones had the biggest jump, to 21%, from 17% in Q1 '15. Connected TV devices inched up from 8% in the prior quarter to 10% and tablets dropped from 8% to 7%. For connected TV device share, Apple TV jumped to first placed, with 39% (vs. 23% in Q1), while Roku dropped from 43% to 32%.

FreeWheel also reported that over 30% of long-form and live viewing occurs between 7pm and 1am, indicating that viewers are using connected devices and on-demand viewing to extend the traditional definition of "prime-time."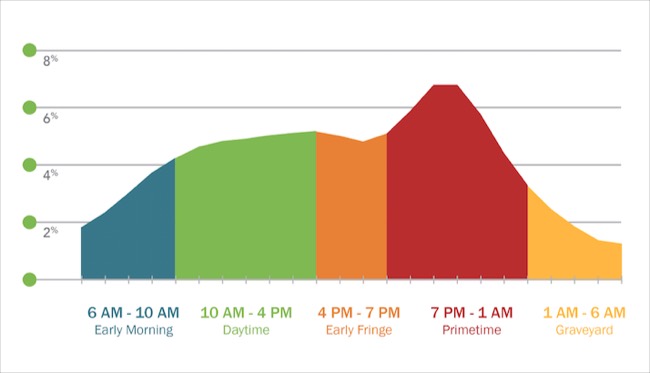 The Q2 '15 VMR is available as a complimentary download and includes lots more data on the video ad market, TV Everywhere growth.