Thursday, September 20, 2018, 12:05 PM ET
|
Connected TV devices and set-top box VOD now account for 57% of all premium video views in the U.S. according to FreeWheel's Q2 Video Monetization Report (VMR) released today. It is the first time CTV and STB VOD have driven more than half of premium video views, and is up from 49% in Q2 '17.

However, the big reason for the jump is due to CTV, which jumped from 29% of all premium video views in Q2 '17 to 41% in Q2 '18. STB VOD actually declined over the same period from 20% to 16%. I've believed for a long time that CTV viewing of SVOD and other ad-supported on-demand OTT programming would eventually chip away at traditional STB-delivered VOD. The Q2 results appear to show this now occurring.
Historically, CTV viewing was dominated by ad-free SVOD services like Netflix. But over the past several years, as more ad-supported OTT services like Hulu, CBS All Access and ESPN+ have risen in popularity, CTV viewing has begun driving a huge volume of premium video ad inventory. That's important because CTV ads enable more precise digital-style targeting, buying and measurement.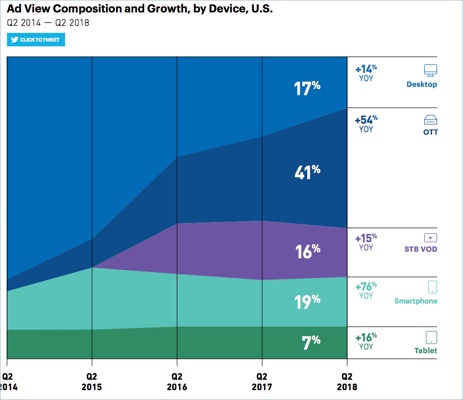 At 41% share of all premium ad views, CTV is now by far the biggest platform for viewing. Next comes smartphones at 19% (up from 16% a year ago), desktop at 17% (down from 27% a year ago), STB VOD at 16% and tablet at 7% (down from 8% a year ago).

It's important to note the seismic shift away from desktop and toward CTV: 5 years ago, in Q2 '13, desktop accounted for over 81% of all premium video views, with CTV just a sliver at just 1.2%. This reflects the tens of millions of Rokus, Fire TVs, Chromecast and Apple TVs that consumers have bought and activated over this period.

Meanwhile, premium video consumption growth has actually accelerated over the past year. In Q2 '18, video views were up 31% year-over-year, with ad views up 35%. That compares with Q2 '17 when video views were up 26% and ad views were up 17%. Contributing to the growth was the FIFA World Cup which followed the big online successes of the Winter Olympics and Super Bowl LII. Live viewing accounted for 33% of all views, compared to 21% in Q2 '17, with 66% of live views coming from sports.

Also contributing to the growth in premium video viewing was the 111% bump in IP-delivered programming by skinny bundles and via TV Everywhere. Skinny bundles now have over 5 million subscribers, and as more traditional multichannel TV subscribers shift to skinny bundles, this will become a growing source of ad inventory.

The ad model is continuing to shift as well. Programmatic accounted for 14% of transactions, up from 11% in Q2 '17, while direct sold comprised the remainder, at 86%. Private marketplaces continue to dominate programmatic, with 93%, as open exchange remained low at 7%.

The VMR contains a lot more data, including a full profile of premium video consumption in Europe. As always the VMR is complimentary and can be downloaded here.