Monday, August 16, 2010, 9:42 AM ET
|
Rhythm New Media's Q2 '10 mobile video advertising report, which is being released this morning, continues to show how mobile video consumption is spread throughout the day. Unlike online video or traditional TV, where there's a large difference in viewership between the 8pm-11pm primetime daypart vs. other dayparts, the Rhythm data (see below) shows a more even distribution. Rhythms data is based on about 1 billion content views and 75 ad campaigns run during the quarter. Adam Wright reported similar findings in Rhythm's Q1 '10 report.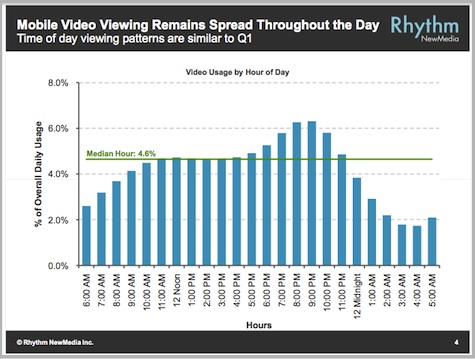 By comparison, here's a chart I found from online video advertising network ScanScout, which it included in its June, 2010 Insights report. The much bigger difference between peak viewing in primetime vs. trough viewing in the early morning hours is visible.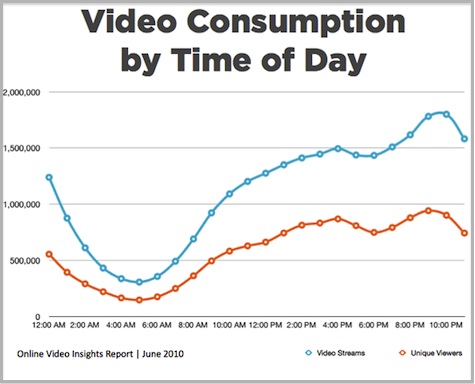 Both Rhythm and ScanScout point out that their data is based on their own networks, and therefore isn't necessarily representative of the full universe of mobile and online viewers. One of the reasons that we may be seeing more evenly distributed mobile viewing behavior is that access to full-length TV programs is still relatively limited in mobile. The iPhone, which has the biggest universe of mobile video enabled users, doesn't support Flash, which is what most full-length programs still use (though some like ABC and Hulu Plus, which both include ads, also now use HTML5, making their programs accessible). And the fast-selling Android phones for the most part still don't run the 2.2 version of the operating system which is needed to run Flash 10.1.
Depending on how these technical issues evolve, long-form viewing will likely increase, and we may see the mobile numbers shift to more conventional TV and online video viewing patterns. Related, Rhythm said that apps which contain full-length programs experienced a 20% quarter over quarter time spent viewing increase, suggesting there's an appetite for long-form on mobile.
Elsewhere, Rhythm, whose mobile video ad network is focused exclusively on premium content, not surprisingly reported that ad campaigns that include some video experience a higher click-through rate (by 50%). Rhythm also said that mobile viewing via 3G and WiFi is split about evenly, 53% and 47% respectively. One difference is that iPhone users consume 56% using 3G vs. 44% using WiFi, whereas Android users consume 72% using 3G vs. 28% on WiFi. I'm not sure what to make of this difference other than it may show iPhone users showing a pattern of avoidance of AT&T's network when WiFi is available.
What do you think? Post a comment now (no sign-in required).