Thursday, September 29, 2011, 9:12 AM ET
|
Streaming may be the future, but for the present, more Netflix subscribers age 13-54 still use DVDs and Blu-ray discs to watch TV shows and movies on their televisions, according to a new research report that Knowledge Networks will release later this morning. As the chart below shows, among those surveyed, 29% said they use DVDs and Blu-ray to watch Netflix content at least once per month on their TVs, while 20% said they use streaming to watch on their TVs.
For Netflix users the TV is still the primary viewing screen; 44% of those saying they use Netflix at least once a month use their TVs to watch, with 30% using a computer and 11% using a mobile device. Even among those using a computer, DVD usage is holding up pretty well, with 9% of respondents who watch Netflix at least once per month saying they use DVD, and 15% using streaming. This data, along with other results in the research, raises further questions about whether Netflix acted prematurely in deciding to split off its DVD operations to focus on streaming, a point I have made previously.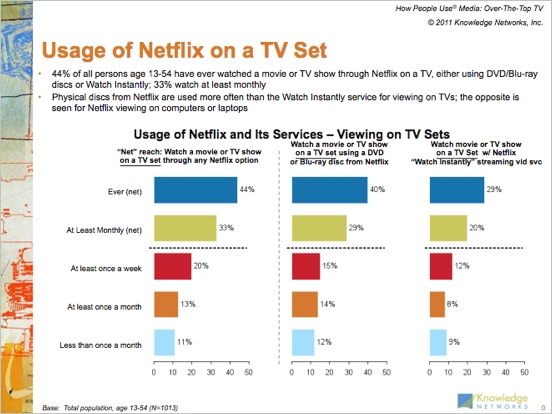 On the bright side for Netflix, the research reveals streaming users watch much more than DVD users especially when they can view on their TVs. Streaming users watching via their TVs averaged 4.3 TV episodes and 2.1 movies per week, with streaming users watching via their computers averaging 2.5 TV episodes and 1.5 movies per week. DVD or Blu-ray users watching on TV averaged just 2.5 TV programs per week and 1.4 movies.
However, the research - which was conducted June 21-July 4, just before the big price increase was announced - suggests a key vulnerability for Netflix which is that 45% of users who also subscribe to pay-TV service would definitely or probably cancel their Netflix service if their pay-TV provider offered content anywhere and the cost was no more than their current Netflix subscription. Since most pay-TV operators are offering such TV Everywhere type services at no extra charge, if they could beef up their TV Everywhere content to be competitive with Netflix's (which some are doing) it seems likely that they could lure away a fair number of Netflix users. Surprisingly, given the hype around cord-cutting, younger viewers seem more eager than older viewers to drop Netflix for their pay-TV operator. Notably, when asked what they liked most and least about Netflix, selection was named by an equal number of respondents.
Offsetting this opportunity for pay-TV operators though are findings about premium channels (e.g. HBO, Showtime, Starz) and Video On Demand (VOD) services. One third of those with a premium channel and Netflix say that they're watching less of the premium channel due to Netflix. And 7% of those with both report having cancelled the premium channel with Netflix a factor in the decision. For those with access to VOD, 20% say they're using it less due to Netflix. When it comes to Netflix affecting regular TV viewing though, there's little impact with the exception of decreased viewing of original movies on broadcast or cable TV networks.
No doubt Netflix does plenty of its own research among subscribers, and so the interesting thing to consider here is whether their own findings are in the same ballpark as this research. If so, then again, one has to wonder why the company was so eager to split off the DVD business when it appears many subscribers still use DVDs and value them (and it's worth noting again that the content selection on DVDs will far surpass what's available on streaming for a long time). The first tangible result of Netflix's decision will come in a few weeks when the company reports its Q3 earnings.
Note: the research was conducted among 1,052 individuals age 13-54 using a 17-minute online survey using Knowledge Networks' Knowledge Panel which provides a statistically valid representation of the U.S. population.