Monday, December 15, 2014, 11:48 AM ET
|
Mobile video may be the hottest trend in video today, with evidence of its ascendance seemingly everywhere. As just one data point, last week's Q3 2014 Global Video Index from Ooyala pegged mobile video plays at 30% of all online video plays. That was up from 20% share in Q2 '14, more than double mobile video's 14% share from one year earlier in Q3 '13 and quintuple the 6% share from Q3 '12.

That scorching growth prompted Ooyala to accelerate its forecast for when mobile video's share will cross the 50% threshold industry-wide. Ooyala previously saw this happening in 2016, but now believes it will occur by Q3 '15.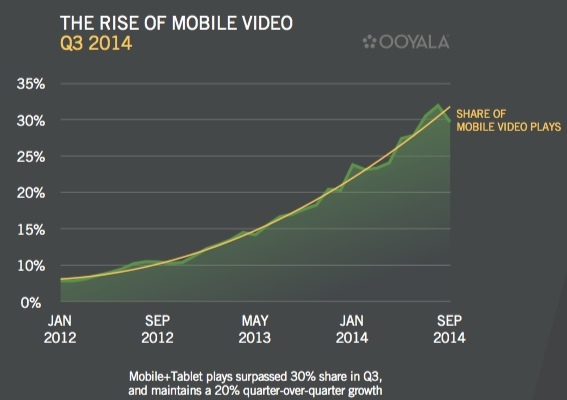 Of course, the 50% mark has already been crossed by many video providers. YouTube, online video's 800-pound gorilla, recently said mobile hit 50%. Last week at Teads.tv's Video Publishers' Summit, Leora Schachter, VP, Digital Strategy and Planning at Scripps Networks, said mobile now accounted for 60% of all views. At a DCN panel I moderated recently, executives at CNBC, Conde Nast and the NY Times all said mobile was a huge driver of their overall views. And over a year ago, at VideoSchmooze, PBSKids Digital disclosed that 75% of its viewership among 2-5 year-olds was on mobile.

In fact, mobile video is in a perfect storm right now. Key contributors include the growing adoption of mobile devices, which are becoming better suited to video viewing (iPhone 6 and 6 Plus being top examples); more premium content becoming available, fueled by millennial-friendly YouTube MCN video along with sports (e.g. NFL Now, SI Wire, Olympics, World Cup, etc.); Facebook's billion plus per day video views, which are no doubt mobile-oriented; broadening of TV Everywhere (again live sports being a big contributor); expanding footprint of WiFi coverage (critical for managing mobile data use); and importantly, improving mobile video advertising.

Every one of these contributors is likely to gain further momentum in 2015, setting up the year as the biggest one yet, notwithstanding ongoing measurement challenges. It's hard to predict whether mobile video will cross 50% share industry-wide in 2015, but no question it is going to continue to be a focal point for everyone in the industry.