Thursday, September 11, 2014, 11:15 AM ET
|
According to a new eMarketer forecast, in 2014 YouTube will account for 18.9% of the U.S. online video ad market, down from 21.2% in 2013. Still, YouTube will see a healthy 39.2% year-over-year net video ad revenue increase, from $810 million in '13 to $1.13 billion in '14. eMarketer forecasts YouTube's U.S. video ad revenue to continue growing, by 34.2% in '15 to $1.51 billion and by a further 18.3% in '16 to $1.75 billion.
eMarketer's numbers are roughly in line with a YouTube analysis released by Jefferies & Co. 2 weeks ago, which found that the company will generate $5.9 billion in global revenue in '14, rising to $8.9 billion in '16. Jefferies assumes that 80% of YouTube's traffic is outside the U.S. so if this breakdown was directly applied to revenue, U.S. ad revenue would be $1.18 billion in '14, increasing to $1.78 billion in '16, so just a little higher than the new eMarketer numbers (note, I believe the Jefferies numbers include non-video ad revenue as well).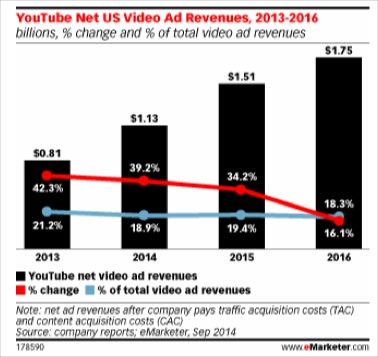 eMarketer observes that advertisers are attracted to video properties that offer exclusively high-quality, well-produced content, and that YouTube's user-generated videos - while popular with audiences - are either too short or not brand-safe, thereby hindering faster ad revenue growth.

eMarketer forecasts the U.S. online video market will more than double, from $5.96 billion in 2014 to $12.82 billion in 2018. eMarketer has said previously that mobile video advertising in particular is slated to grow from 25% of online video's total ($1.44 billion) in 2014 to 44% of its total in 2018 ($5.44 billion).

Constraining online video advertising from even faster growth, eMarketer points out that fast-growing OTT services like Netflix and Amazon Prime Video don't support advertising.