Wednesday, March 21, 2018, 12:26 PM ET
|
The average 45 year-old may not think they have a lot in common with the average 15 year-old, but according to the newly-released 12th edition of Deloitte's Media Trends Survey, it turns out they do. In fact, Deloitte has concluded that the media consumption behaviors of Gen Z (14-20 year olds), millennials (21-34 year-olds) and Gen X (35-51 year-olds) is actually converging, causing the firm to firm to dub the combined group, "MilleXZials." This group's behaviors are increasingly distinct from Baby boomers (52-70 year-olds) and Matures (71+ year-olds).
Overall, Deloitte found that in 2017, 48% of U.S. consumers streamed TV shows or movies either every day or weekly, compared to 37% in 2016. There was a relatively tight clustering of viewership frequency among Gen Z (approximately 67% every day or weekly), millennials (approximately 62%) and Gen X (approximately 52%). In addition, Deloitte found a tight range of streaming subscriptions: 70% of Gen Z households subscribed to a streaming service, followed by millennials (68%) and Gen X (64%). Baby boomers and matures were approximately half these rates.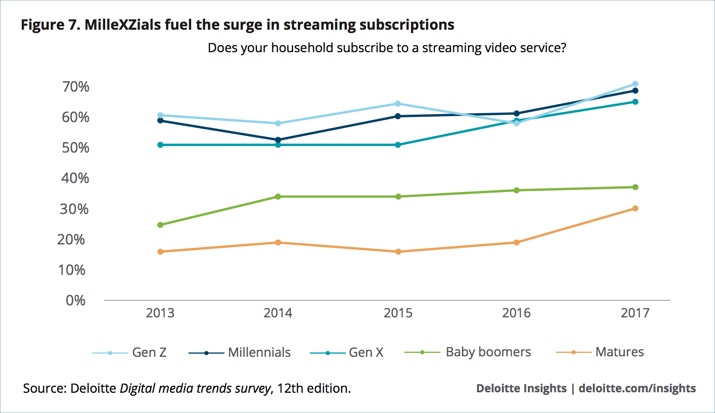 At least once per week consumption of streaming was also relatively comparable. 70% of Gen Z and millennials stream movies weekly (60% for Gen X) and 69% of Gen Z streams TV shows weekly (66% for millennials and 55% for Gen X). Deloitte attributed these high rates to MilleXZials' desire for high-quality original content plus the ability to view on-demand and across devices. Again, Baby boomers and matures lagged considerably, with weekly consumption rates in the 15-25% range.

Binge-watching is another behavior that distinguishes MilleXZials from the older 2 groups. 91% of Gen Z are binge-watchers, followed by 86% of millennials and 80% of Gen X. In addition, MilleXZials also have much higher rates of watching movies and TV shows on smartphones. MilleXZials reported spending between approximately 7-22% of their time watching movies and TV shows on their smartphones, compared to the 2 older groups which watched less than 5%.

The data indicates that streaming has become a strongly adopted mainstream behavior for MilleXZials. Although Gen Z'ers are leading, Gen X'ers are not that far behind. The combination of many affordable, high-quality video services with inexpensive and easy to use connected TV devices is creating a paradigm shift for wide swaths of American viewers. The shift is showing up in the rising perception of traditional pay-TV as being too expensive, in turn leading to accelerating cord-cutting.

The full report is available for download here.