Thursday, February 12, 2009, 9:33 AM ET
|
Last week when comScore announced data from its Video Metrix service for December '08, I made a note to myself to go back and look at all the video usage data comScore has released and see what it reveals. Below are 5 charts that I've compiled from comScore's press releases covering January 2007 - December 2008 (note comScore didn't report on every single month during this 24 month period so there are some holes in the graphs).
The first graph shows the growth in total videos viewed per month, roughly doubling from 7.2 billion views in Jan. '07 to 14.3 billion views in Dec. '08.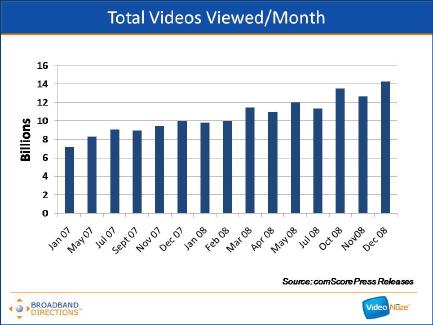 That growth is driven by a number of factors including an increase in the number of monthly viewers from 123 million in Jan. '07 (70% of U.S. Internet users) to 150 million in Dec. '08 (78.5% of U.S. Internet users).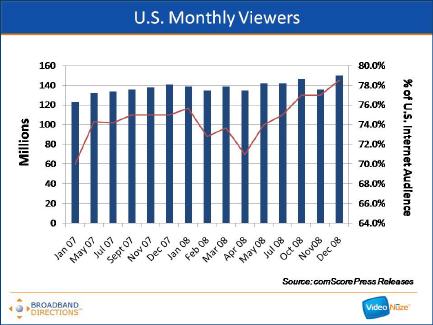 It also reflects an increase in the number of videos viewed per viewer from 59 in Jan. '07 to 96 in Dec. '08.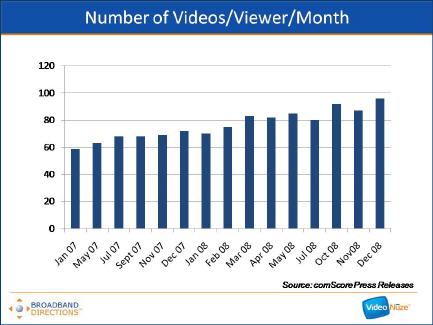 Which further translates into the growth of total number of minutes the average viewer watched per month from 151 minutes per month in Jan. '07 to 309 minutes per month in Dec. '08.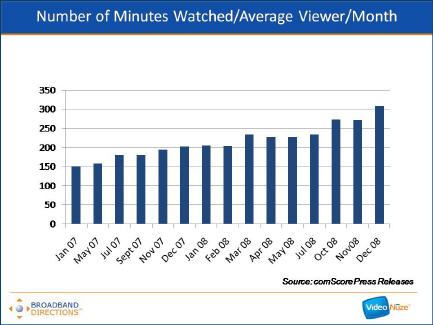 Aside from the sheer growth of the market over the last two years, the most striking thing about the comScore data is the growth in usage and market share by YouTube. Back in Jan. '07, YouTube generated approximately 1.2 billion video views per month for a 16.2% share of all videos viewed. Two years later in Dec. '08 YouTube generated approximately 5.9 billion video views per month for a 41.2% market share. YouTube's share growth is staggering: in every month but 1 during this period YouTube increased its sequential monthly views and in all but 3 months it increased its sequential monthly market share.
Recall that Google closed on the YouTube acquisition in Nov. '06 and at $1.65 billion, many thought Google had grossly overpaid. Some may still believe this as YouTube is still very much a work in progress in terms of how it generates revenue. But there's no questioning the phenomenal two-year run it has had in terms of its usage and market share growth. This is one of the reasons why I continue to believe YouTube is one of the most powerful platforms for eventually disrupting the traditional video distribution value chain.
If these slides are hard to view, I've uploaded them all to SlideShare.
What do you think? Post a comment now.