Thursday, March 26, 2020, 11:07 AM ET
|
Everyone is struggling to adapt to the new realities of life with the coronavirus. One of the big side effects is a spike in stay-at-home viewing of both ad-supported (AVOD) and subscription-supported (SVOD) video. Changes in consumption are being strongly influenced by the suspension of live sports and the postponement of this summer's Olympics. In addition, billions of dollars of ad spending are being reviewed - either to be reallocated elsewhere currently, eliminated or banked for the future.

A lot of valuable data and insights are being provided by industry leaders that helps us better understand these rapidly-shifting times. I will be trying to curate as many of the links to all of it as possible on a daily basis on this Coronavirus Video Industry Research hub, which is part of our sister site, VideoNuze iQ (where lots of other great industry data is also available).

If you have data or insights to share, please send them to me, along with appropriate links and any other suggestions you might have. I'll be contributing interviews with industry leaders as well. Hopefully this hub can assist all of us in getting through these challenging times.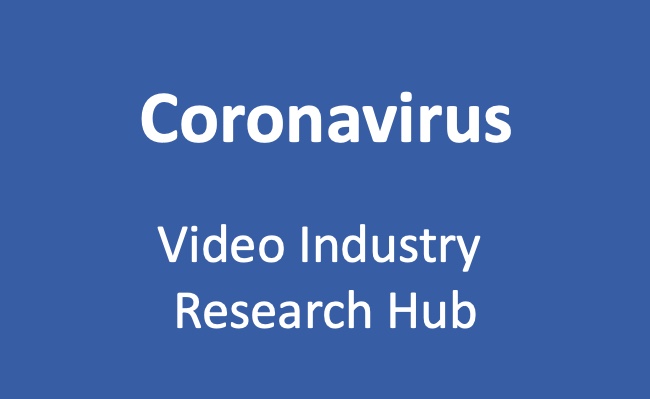 Thursday, April 30
Kids and Teens Drive Daytime TV Viewing and Streaming Increases During COVID-19 (source: Nielsen)
Wednesday, April 29
Uncovering The Results Behind Brand Responses To COVID-19 (source: Unruly presentation)

Wednesday, April 22
Innovid iQ dashboard (source: Innovid)
Tuesday, April 21
Coronavirus Ad Adjacency: A follow-up study for a changing digital landscape (source Integral Ad Science, download report)
Monday, April 20
Four myths about video downloading exposed (source: Penthera, via nScreenMedia)
Thursday, April 16
COVID-19: The Crisis Through Two Lenses (source: Horowitz Research)
Wednesday, April 15
The Battle for the North American Couch Potato: OTT and TV (source: Convergence Research Group, download report)
Coronavirus Ad Revenue Impact: Sell-Side (source: IAB, download report)
Monday, April 13
YouTube Sees 75% Jump in News Views on Thirst for Virus Updates (source: YouTube via Bloomberg)
Thursday, April 9
Video on Demand Transactions Increase in Month of March (source: comScore)
Wednesday, April 8
Survey: Younger Users Increase Mobile and CTV Usage (source: Unruly via VideoNuze)
Tuesday, April 7
Streaming Wars Wave 2: Staying at home with CTV (source: Integral Ad Science, download report)
Monday, April 6
Covid-19 Benchmarking (source: STAQ, download report)
Most Ad Execs Project A Second Wave Of Pandemic Cuts Later This Year, Weak Signals For Upfront (source: UBS via Mediapost)

Thursday, April 2
Video Ad Spend On News Sites Dropping; COVID-19 Content Blackouts Termed 'Missed Opportunity' (source: Connatix via Mediapost)
Interview with Joe Hirsch, CEO, SpringServe (source: VideoNuze)
Wednesday, April 1
Conviva's COVID-19 Social & Streaming Report (source: Conviva, download report)
Tuesday, March 31
Video Streaming to TVs Soared 85% in U.S. in First Three Weeks of March, Nielsen Says (source: Nielsen via Variety)
Monday, March 30
COVID-19 Network Update - Peak Traffic is Up 32% Overall (source: Comcast)
Facebook Says Lives Streams Have Increased 50% This Month, Will Expand 'Stars' Monetization To Musicians, More (source: Facebook via Tubefilter)
Friday, March 27
Coronavirus Ad Spend Impact: Buy-side Plans and Actions (source: IAB, download report)
Video Trends: March over February (source: STAQ, download report)
Beyond the Outbreak: How Covid-19 Will Affect the Global Advertising Market (source: Magna)
TV Ad Revenues To See Sharp 40% Decline in 2Q, Moderating Drops Through 2020 (source: Bernstein Research via Mediapost)
Thursday, March 26
TV Streaming on the Rise Along with Connected TV Ad Requests During Quarantine (source: Beachfront via TVREV)
Marketing in the time of COVID-19 (source: Innovid and IAB discussion)
Tubi Reports Record Viewership As More People Stay Home (source: Tubi data via Adweek)

Wednesday, March 25
Sports Fans Embrace Streaming, Reading & Exercise to Offset "Sports Blackout" Created by Coronavirus Outbreak (source: Altman Vilandrie & Co.)

Interview with Jeremy Steinberg, Global Head of Ecosystem, MediaMath (source: VideoNuze)

Global study of 25,000 consumers gives brands clearest direction on how to stay connected in a pandemic world (source: Kantar)

Coronavirus Effect on Advertising Report (source: Advertiser Perceptions)

Tuesday, March 24
HBO NOW Streaming Data In Wake of COVID-19 (source: HBO/Medium)

Monday, March 23
Connected TV Viewership is Skyrocketing as More Americans Begin to Work From Home (source: SpringServe)

The Effect of COVID-19 and How Advertisers Can Adapt (source: SpotX)

Americans Are Spending Significantly More Time Watching Daytime Television (source: SambaTV)

During social distancing, TV providers will gain both viewers and share of time (source: Hub Research infographic)
COVID-19 Impact Driving Business Hours Broadband Consumption Up >41% (source: OpenVault)
How Covid-19 is Changing Online Streaming Behavior Globally (source: NPAW)
Time Spent Streaming Spiked 20% Worldwide This Past Weekend (source: WURL via Bloomberg)