Monday, August 22, 2011, 12:46 PM ET
|
Music video site VEVO attracted nearly 60 million unique viewers and generated over 844 million videos viewed to its YouTube partner channel in July, making it by far the most popular YouTube partner channel, according to new data released by comScore.
comScore has recently begun measuring traffic for a select number of YouTube partners. As the chart below shows, Warner Music's channel was second in unique viewers with 31 million+, while Machinima's was second in videos viewed with 265 million+. From its inception, YouTube has been providing technology to VEVO, which was founded by Sony, Universal and Abu Dhabi Media, with EMI licensing its music videos.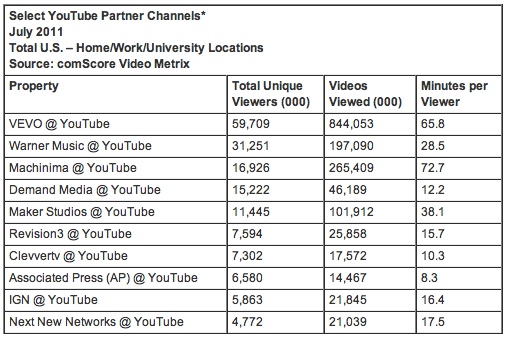 This was the first month that comScore began releasing the YouTube partner channel data, which is certain to be closely watched as YouTube itself maintains dominance of the online video market with consistent 40%+ monthly share. The partner channel data supports the idea that establishing a robust presence on YouTube is one of surest paths to visibility and usage for independent video producers.