Monday, September 24, 2012, 10:53 AM ET
|
comScore released its August '12 data on online video usage last week , making it a full 12 months since it changed its reporting methodology. Looking over the data, there are a few things worth pointing out.

First is that AOL has had a very strong year, increasing its videos delivered from 408 million in Sept. '11 to 725 million in Aug. '12, a 78% jump (see chart below). That's the best growth rate of any of the top 10 sites from Sept. '11. It's also the second consecutive month that AOL was in second place to YouTube, the industry's perennial leader. AOL has put a huge emphasis on video, launching the AOL On Network last April, along with a slate of original programming.
In a blog post on Friday, AOL's SVP of Video for The AOL On Network Ran Harnevo, wrote that AOL is also ranked #1 in Auto, Business, Style, Home, Health, Travel, Technology and Food categories. Ran said that since AOL On Network launched, the number of videos available have increased by 30%, from 320K to 420K. Key to AOL's success has been syndication of video to 3rd party sites, powered by AOL's acquisition of 5Min in Sept. '10.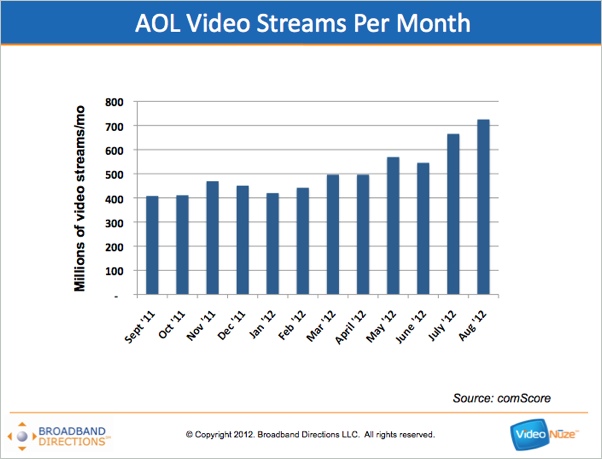 Industry-wide, total videos delivered actually nudged down a bit, from 39.8 billion in Sept. '11 to 37.7 billion in Aug. '12, no doubt caused by seasonality (see chart below). Of note, YouTube delivered 13.8 billion streams, making it still the top site by far. But that was actually a 26% drop from the 18.6 billion videos it delivered a year earlier, and a 30% drop from the 19.6 billion it delivered in the prior month of July '12. It's hard to explain what might have caused such a steep decrease, which was accompanied by a small decline in unique viewers as well.

YouTube's viewership drop meant that its market share was reduced to 36.5%, from 53.1% in July, '12 and 46.7% in Sept. '11. That's the lowest market share for YouTube since March, '11 when it was at 34.4%. I'm not reading too much into the August data, since it's just one month, but it will be interesting to see if YouTube bounces back in Sept. Certainly with all of its original content initiatives, it seems it should. Just last week, YouTube said that 20 of its 100 original content channels are now generating over 1 million views per week.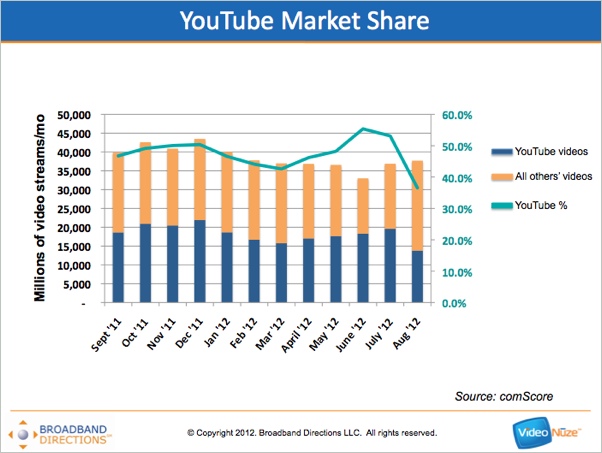 It will also be worth watching if total industry views resume their growth after the summer slowdown. Last Q4 was a new high water mark for the industry, with Oct, Nov and Dec '11 all above 40 billion videos for the first time (Dec set the all-time industry record with 43.5 billion videos). Given all of the original online productions coming out and the proliferation of viewing devices, it seems like the stage is set for a strong Q4.