Wednesday, February 4, 2015, 11:14 AM ET
|
Mobile video viewing will soar 13-fold over the next 5 years, to account for 72% of global mobile traffic by 2019, up from 55% in 2014, according to Cisco's new Visual Networking Index Global Mobile Data Traffic Forecast for 2014-2019. Video will increase at a compound annual growth rate of 66% over the period, the second fastest of any mobile application. Cisco forecasts that 17.4 exabytes out of the 24.3 exabytes that cross global mobile networks in 2019 will be video.
Mobile video is experiencing a perfect storm of drivers over the next 5 years according to Cisco, including: an explosion of mobile devices (to 11.5 billion by '19), an increase in share of smart devices (from 26% overall in '14 to 54% in '19) and faster mobile connection speeds (68% of mobile traffic will be on 4G connections). By '19 the average smartphone will account for 4 gigabytes of traffic per month, a 5x increase from 819 megabytes in '14.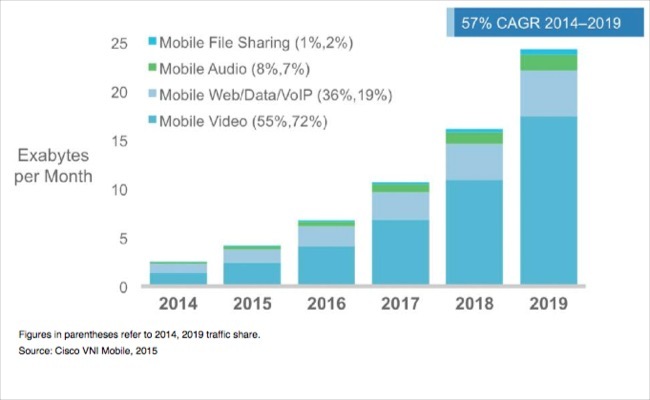 Overall, Cisco sees a 10x increase in mobile traffic over the next 5 years, from 2.5 exabytes per month in '14 to 24.3 exabytes per month in '19 (a 57% CAGR). The Middle East and Africa will have the highest CAGR (72%).

Video's share of mobile traffic will be dominant by '19, far surpassing mobile web's 19%, which will have the second-highest share, followed by mobile audio (7%) and mobile file sharing (7%). Cloud-based applications, which include video, will account for 90% of mobile traffic by '19.

Cisco also forecasts significant growth in Internet of Things ("IoE") adoption, including both machine-to-machine ("M2M") connections and wearables. M2M is forecast to have a 45% CAGR, with 3.2 billion connections per year by '19. Wearable will have a 40% CAGR, with 578 million connected wearables by '19.

As I've written previously, it's critical to remember the new iPhone 6 and 6 Plus's contribution to mobile video's growth. The devices' larger, crisper screens, faster processors and longer batter lives all combine to make them extremely mobile video friendly. Apple's record 75 million iPhone sales in Q4 '14 underscore how quickly the devices are being adopted and what's ahead.

Bottom line, as the Cisco forecast demonstrates, mobile is increasingly going to be all about video.