Thursday, June 8, 2017, 12:32 PM ET
|
Cisco has released the latest version of its Visual Networking Index, forecasting among other things, that live video will increase 15x over the next 5 years to reach 13% of all global Internet video traffic by 2021. Cisco is forecasting video will account for 82% of global Internet traffic, in line with prior forecasts and far surpassing any other application type.

Cisco attributed the growth in live to "streaming of TV apps and personal live streaming on social networks." Facebook Live has continued to grow in popularity, as has streaming live sports and events by various TV networks and rights-holders. As an example, the Ariana Grande benefit concert on Sunday drew more than 76 million views on Facebook Live.
Aside from live, Cisco expects 57% of video traffic will be long-form, 26% will be short-form and 3% will be video surveillance.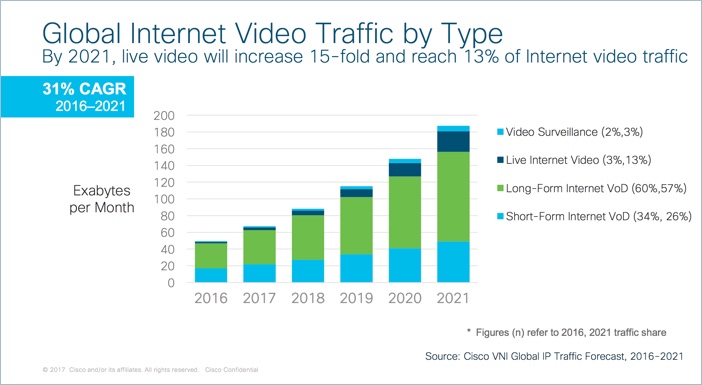 Cisco also expects that connected TV devices (or "Digital Media Adaptors" as Cisco calls them), will continue to grow rapidly in the next 5 years, rising from 138.8 million globally in 2017 to 261.3 million, a 14% compound annual growth rate. Traffic running through DMAs will rise to 14.2 exabytes per month in 2021, up from 4.3 exabytes per month in 2016.

Cisco also sees ultra-high definition (4KTV) driving a growing portion of overall video traffic. 4KTV will increase from 2% of video in 2016 to 21% in 2021. By 2021 Cisco believes 663 million, or 56% of connected flat panel TVs will support 4K, up from 85 million in 2016.

Cisco also noted that households that have cut the cord drive 117 GB per month of usage, 86% greater than the 63GB per month that average households generate.

The VNI includes tons of other useful data and forecasts for Internet traffic in the future. Cisco also said that back in 2012 it forecast that compounded global Internet growth would be 29.1% through 2016 and actual came in pretty close, at 29.9%.
As always, the VNI is available as a complimentary download.