Wednesday, February 6, 2013, 10:15 AM ET
|
Cisco has released its 6th annual Visual Networking Index (VNI) Global Mobile Data Traffic Forecast, for 2012-2017, with heady growth predictions, including a 13x increase in mobile data traffic from .9 exabytes/mo in 2012 to 11.2 exabytes/mo in 2017. Cisco points to 4 key growth drivers over the forecast period: more mobile users (5.2B, up from 4.3B), more mobile devices/connections (10B, up from 7B), faster average mobile speeds (3.9 mbps, up from .5 mbps) and more mobile video (66% of mobile traffic, up from 55%).

Most intriguing from my perspective is the mobile video forecast. With the proliferation of tablets and smartphones, "mobile" video has become a huge topic of interest in the industry, even though the term still means different things to different people. For example, while some loosely lump viewing video on an iPad within the home over a WiFi network as "mobile" video, I've thought of this as more "portable" video over an extended fixed network. Cisco defines mobile video as carrier-based, which I believe is more accurate.
Here in the U.S., one of the big trends over the past year or two has been the phasing out of unlimited data plans by the 2 major wireless carriers, AT&T and Verizon. I experienced this myself last fall, when I moved from a Droid X, which I'd had for 2 1/2 years (and which had an unlimited data plan) to the iPhone 5. Verizon kindly informed me I would now need to choose a data package, as the iPhone 5 wasn't "eligible" for an unlimited plan. While this would give me unlimited talk time and texting, I recognized that for the first time I would actually have to be mindful of my data use if I wanted to avoid overage charges.

Sure enough, in my third month with the iPhone, I began getting handy notices from Verizon that I was at 50%, then 75%, then 98% of my monthly data plan allowance. So I began managing my usage (no more video, little browsing, switching to WiFi whenever possible, etc.). Apparently I'm not alone; Cisco reports that average daily data consumption over WiFi networks is 55MB, 4 times that of cellular's 13MB. Users clearly understand the costs of their wireless data service and work hard to stay within their caps (this is also why over 3/4 of all tablets sold are WiFi only).

All of this means that viewing long-form, carrier-based video is essentially dead on arrival given these tiered plans' caps and pricing. Nobody is going to pay their carrier hundreds of dollars per month in data fees so they can stream a few movies on Netflix or Amazon on their device. Mobile video will remain a strictly clip-oriented experience, and even then a highly managed one. This syncs with My Damn Channel CEO Rob Barnett's comments that with mobile now accounting for over 30% of views, they're producing videos that are 2-3 minutes max. And this is part of YouTube's challenge as well: although it's trying to become more of a serialized, longer-form platform, since 25% of its viewing now on mobile, user are cost-conscious and careful not to watch too much.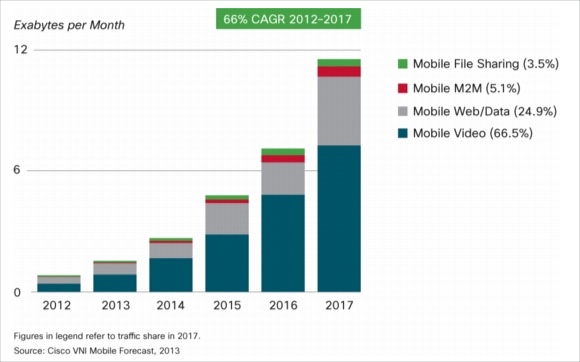 This brings us back to the Cisco forecast. Focusing just in the U.S. and only on carrier-based video, Cisco sees the monthly per user data traffic growing from 2.7 GB in '12 to 7.9 GB in '17. Interestingly, Cisco actually sees time spent viewing mobile video declining slightly over the period from 2.35 hours/week to 2.23 hours/week. The per user consumption increase is driven by a quadrupling in mobile video bit rates which produce bigger data files. At Verizon's current rates, for example, a subscriber would have to spend at least $20-30 more per month to support the forecasted 2017 video usage level, before accounting for other apps.

What will users do in reality? Will they pay more to watch basically the same amount of video, but at higher quality? Will they cut back the amount they watch to keep their bills flat? Or, given the higher quality, might they pay a lot more to watch even more video? And how about the carriers? Will they relax their caps over the next 4 years and/or reduce their pricing as the 4G networks are amortized and they begin the next round of upgrades? While all of these are unknowns for now, they will each play a big role in determining just what will happen with mobile video.

(Note: there is a ton of additional VNI data, along with charts and videos, all available here)