Wednesday, March 26, 2014, 10:19 AM ET
|
People want to skip ads, right? The conventional wisdom is yes, but it turns out the answer isn't quite so simple. In fact, viewers are seeking out, watching and sharing certain types of advertisers' messages in record numbers. According to Visible Measures 2013 Branded Video report, branded videos (video campaigns advertisers posted online, as opposed to video ads that run in-stream, etc.), generated 8.3 billion views, up 44% vs. 2012.

There's huge momentum in branded videos: of the 8.3 billion views, 6.5 billion, or 78%, were for campaigns newly launched in 2013. This compares with 3.8 billion views for new campaigns launched in 2012 and 1.7 billion views for campaigns launched in 2011.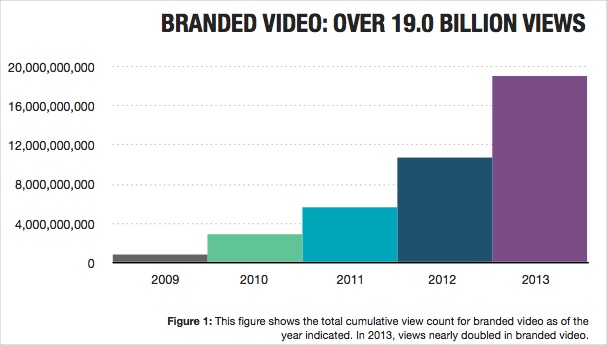 A further breakdown of the 2013 views shows how many more advertisers are succeeding with branded video, and to a much greater degree. In 2013, 12 campaigns gained more than 100 million views each vs. 6 in 2012. In 2013, 133 campaigns gained 10 million+ views, vs. 71 in 2012 and just 40 in 2011. And over 1,020 campaigns gained more than 1 million views in 2013, vs. 550 in 2012. In all, the average branded video campaign in 2013 received 2.4 million+ views vs. 1.6 million in 2012.

As yet another milestone of branded videos' surging popularity, Visible Measures said that in 2009 when it launched its top 10 weekly viral video chart with Ad Age, it took just 220K views to make the list. In 2013, it took almost 10x the amount, or an average of 2 million views per week, to make the list.

No surprise, humorous campaigns were the most popular overall, with examples such as Turkish Airlines' The Selfie Shootout and Samsung's The Big Game each receiving 100 million+ views. More broadly, Visible Measures concluded that all successful branded videos shared 3 characteristics: a great story, an emotional hook and newsworthiness.

The report offers a slew of other insights including performance by industry, the optimal day of the week to launch a campaign, how the Super Bowl works as a springboard, etc. The report also notes that branded videos have been watched over 19 billion times in total from 2009 to 2013.

For advertisers continually challenged to get their messages through, branded videos have emerged as a very appealing new option.

The full report can be downloaded here.