Wednesday, October 21, 2015, 10:48 AM ET
|
AOL has released its 2015 U.S. State of the Video Industry report, finding, among other things, that 91% of media buyers surveyed said they're now buying some of their online video ads programmatically, up from 53% in 2012. AOL found that 68% of advertisers have either brought programmatic video buying in-house or plan to next year. They're doing so primarily to achieve greater buying efficiencies and because they're skeptical of their agencies' programmatic expertise.
Further, AOL found that 67% of agencies and 49% of brands intend to increase their programmatic video budgets in 2016. The AOL data aligns with eMarketer's recently increased programmatic video forecast for 2016 of $5.4 billion, or 56% of all online video ad spending.

Publishers' interest in programmatic has also increased, with 88% saying they sell some of their video ad inventory programmatically. Publishers hold on average 42% of their inventory for programmatic, up 12% over last year. Access to more buyer demand was the primary reason cited for adopting programmatic.

Still, challenges to programmatic video's growth exist. Over half of buyers (52%) said there's an insufficient amount of premium video inventory available at scale. 47% cited safety and quality concerns, while 43% cited operational problems like integrating into existing processes and systems.

Meanwhile AOL found growing, albeit earlier stage interest in programmatic TV, where it said automation of data-driven, audience-based buying transactions is the main focus. 33% of programmatic video buyers said they also use programmatic TV, with 41% saying they'll use programmatic TV next year. The main motivations are to align TV buying and measurement with digital and better measure the impact of TV advertising.

However, big challenges to programmatic TV remain. Most cited were lack of data standardization that constrains custom targeting (53%), lack of resources (51%), lack of transparency (46%) and lack of technology integrations (43%).

Stepping back, AOL found that the rise in online video ad spending is now increasingly coming from buyers shifting budgets from TV. For those who have increased their video ad buying, 39% said they shifted budget from broadcast TV and 31% from cable TV (these compare to 18% each in 2013). An average of 10% of overall TV spending is moving over to some type of digital advertising, with 88% of it going to online video.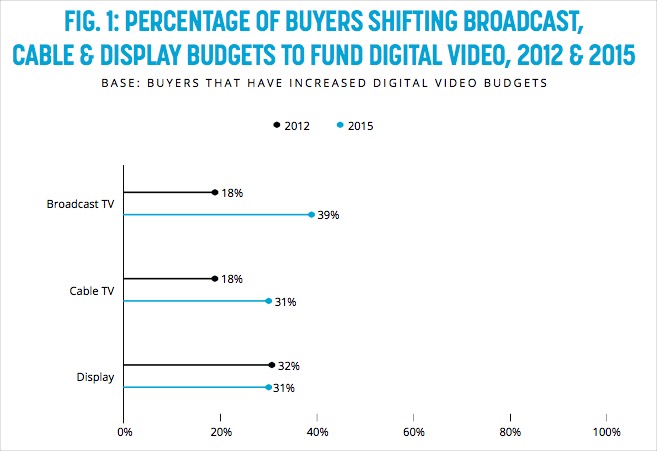 The U.S. State of the Video Industry report is based on a survey of 300 advertisers, agencies and publishers. It also includes interesting data on mobile video and on branded video. The full report is available for complimentary download.

(Note: For a deeper dive, attend our SHIFT // 2015 Programmatic Video & TV Ad Summit on Tuesday, December 1st in NYC. Save now on early bird registration and to win a 50-inch Sharp Roku TV!)