Thursday, January 8, 2015, 9:43 AM ET
|
Akamai has released its Q3 2014 State of the Internet Report, its compendium of global connection speeds and broadband adoption for fixed and mobile networks, along with 4K readiness, attack traffic and IPv4/IPv6 updates. Among the highlights are that broadband adoption rate reached 60% globally, a 1% increase vs. Q2 '14. (Broadband is defined as an average connection speed of greater than 4 mbps.)

South Korea once again led all countries with 96% adoption above 4 mbps, followed by Bulgaria (95%), Switzerland (93%) and Israel (92%). South Korea also had the highest percentage (81%) of adoption of "high broadband" (defined as average connection speed above 10 mbps), followed by Hong Kong and Japan (both at 55%) and Switzerland (54%).
In the U.S. 49 out of 50 states saw a quarterly increase in their average connection speeds, with Washington, Connecticut and Utah all increasing by more than 10%. Delaware has the highest average connection speed, at 17.3 mbps, followed by Washington (16.3 mbps) and Connecticut (15.3 mbps). It goes without saying that robust broadband is now essential for running a wide range of IP applications, but video in particular.

One of the big emerging themes related to video is 4K or Ultra-High-Definition video. 4K TV sets have been dominant at CES this week, and are beginning to catch on with consumers as prices drop. Also at CES this week, Roku announced a Roku TV 4K reference design to accelerate its TV manufacturer partners' 4K rollout. Netflix has also been touting 4K expansion with "House of Cards" and "Breaking Bad" in 4K, as has Amazon.

However, 4K content and devices won't matter if broadband networks can't support 4K delivery, and so in its Q1 '14 report, Akamai introduced the concept of "4K readiness" for broadband networks. Given certain codec assumptions, Akamai has defined 10-20 mbps as the sustained broadband connection required for 4K video. In Q3 Akamai found that just 12% of connections globally were at 15 mbps or higher, which was down 2.8% vs. Q2 '14, but up 32% vs. Q3 '13. South Korea had the highest level of 15 mbps and above connections with 66%, followed by Hong Kong (37%) and Japan (33%).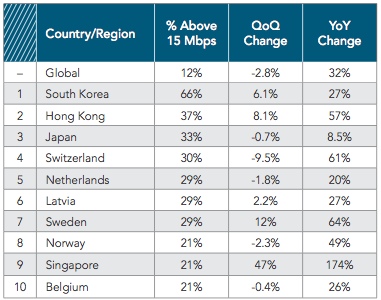 The U.S. ranked 16th overall for 4K readiness with 19% of broadband connections averaging 15 mbps or higher. Delaware had the highest level, with 39%, followed by Connecticut (31%, Massachusetts (29%) and Washington (27%). Alaska and Kentucky had the lowest 4K readiness rate at 6.1%. The geographic disparity in 4K readiness might inform, for example, where Netflix, Amazon and others might chose to promote their 4K content. At a minimum the U.S. data helps gauge how widespread 4K video adoption may be.

For those interested, the Akamai report also has a trove of data on mobile connectivity, attack traffic and security plus IPv4 and IPv6.

The report is available for download here.

(Note: Akamai is a VideoNuze sponsor.)