Wednesday, December 16, 2015, 11:51 AM ET
|
Akamai has released its Q3 2015 State of the Internet report and, as always, it is chock full of details about global Internet connections. One of the more interesting data points Akamai found related to online video is that 15% of the world's Internet connections now average 15 mbps or higher, the speed Akamai has designated to be "4K ready." That's up from 12% in Q3 '14.

South Korea once again had the highest percentage of connections above 15 mbps, at 45%, which was actually down from 66% in Q3 '14. In second place was Sweden at 38%, up from 29% a year ago, followed by Norway at 37%, up from 21% a year ago. Switzerland and Hong Kong (both at 36%) rounded out the top 5 countries that are 4K ready.
Akamai did not detail the overall percentage of 15 mbps or higher connections in the U.S. but did note that 49 states had higher average connection speeds in Q3 '15 vs. Q3 '14. And it said that 44 states had average connection speeds above 10 mbps. The District of Columbia once again had the highest average speed, at 19.5 mbps, followed by Delaware (18.5 mbps), Utah and Massachusetts (both 16.2 mbps) and Rhode Island (15.7 mbps).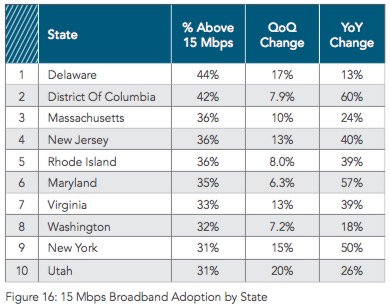 Delaware had the highest percentage of connections at 15 mbps or higher (44%), followed by DC (42%), Massachusetts, New Jersey and Rhode Island (all at 36%). As I've reported in the past, I now consistently receive 75-110 mbps at my house in suburban Boston (I'm a Comcast subscriber).

The 4K-ready status is important because other parts of the video ecosystem are moving quickly toward 4K. For example, IHS forecast last week that 4K TV household penetration will hit 34% in the U.S. in 2019 as 4K TV prices continue to plunge. That's up from around 4% currently. In addition, connected TV devices have been embracing 4K, with the latest Roku, Amazon and TiVo devices all supporting 4K. Last but not least, major content providers like Netflix and Amazon are leading the way in releasing more and more programs in 4K quality. I expect all of these trends to accelerate in 2016.

The Q3 2015 State of the Internet report is available for complimentary download here.

(Note: Akamai is a VideoNuze sponsor)