Tuesday, September 8, 2015, 10:06 AM ET
|
Last Friday Adobe released its U.S. Digital Video Benchmark for Q2 '15, showing, among other things, surprisingly stagnant adoption of TV Everywhere over the past 4 quarters. According to Adobe, active viewership of TVE among pay-TV viewers stood at 12.7%, exactly the same rate as in Q3 '14 (and down a bit from 13.2% in Q1 '15). However, the Q2 '15 rate of 12.7% was 19% higher than the 10.7% rate Adobe recorded in Q2 '14.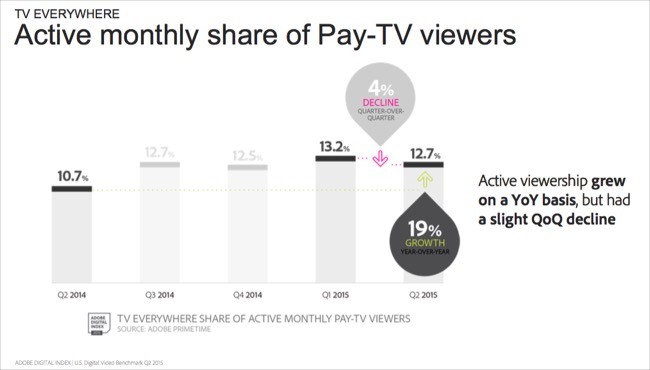 On the positive side, TVE viewing was up 63% in Q2 '15 vs. Q2 '14, which suggests that for those viewers actually using TVE, they're watching more than ever. Still, the stagnation in adoption is bad news for the pay-TV industry, which has made a lot more content available on TVE and has heavily promoted it.

In a blog post, Adobe's principal analyst Tamara Gaffney, explained the slowdown as reflecting "potentially some of the friction in the process of setting up TV Everywhere or figuring out which device you want to use…" adding that "to get to the next level it needs to be simpler to sign in."

Adobe sees Apple - whose various devices combined to account for 61% of TVE viewing - as having an opportunity to resolve some of the TVE complexity with a new Apple TV device (which will be announced tomorrow). Apple TV could indeed play a role in simplifying the in-home TVE experience, but doesn't really address mobile use. In fact, Adobe found that the iPad is still the most-used device for TVE viewing, at 22.3%.

But for those born after 1997, Adobe found a migration away from iPads and toward connected TV devices. Authentications via connected TVs grew 153% YOY while iPad/iPhone authentications dropped 32% YOY.

More broadly, tablet viewing is on the wane, with Adobe finding a decline of 21% YOY share, from 13% to 10.2%. Meanwhile smartphone viewing share increased 20% YOY from 13.6% to 16.3% which Adobe attributed to the trend to larger screen sizes and more functionality.

Adobe also found that for TV web sites, TV shows and movies were the most popular type of content viewed. The sites had a 7 times higher viewing frequency rate than sites that include a variety of news and sports. Reality TV shows had the highest number of ads per episode online, with 3.9 vs. comedy which was the lowest at 2.1 ads.

The full report is available here.