Tuesday, February 4, 2014, 10:45 AM ET
|
Adobe has published its Q4 '13 U.S. Digital Video Benchmark report, finding that authenticated TV Everywhere streams more than doubled in 2013 to 574.2 million, up from 222.5 million in 2012. As the graph below shows, 73% of authenticated views occurred on mobile devices, 22% on desktop and less than 5% each on gaming consoles and connected TVs. For the mobile viewing, tablet share more than doubled vs. 2012 to 42%, with smartphone declining to 31%.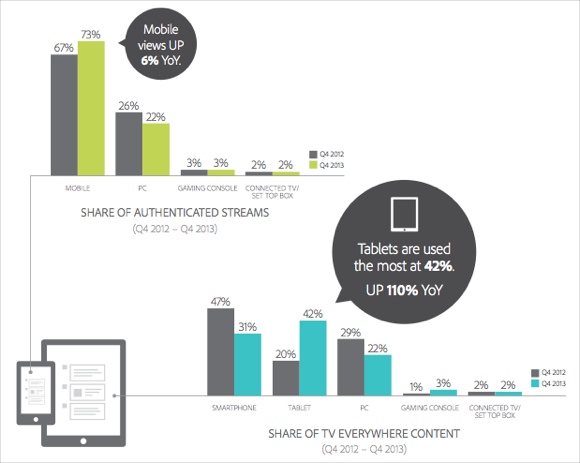 The top TV Everywhere content type is live sports, with a 37% share, followed by news (32%) and TV shows (28%). Across all online video starts, sports streams were up 640% vs. 2012, whereas all non-sports streams were up 190%. And for sports, smartphones still had slightly greater share than tablets. For all TV Everywhere viewing, iOS devices generated 10.1 plays/unique visitor in Q4 '13, down from 14.1 in Q4 '12, with Android basically flat at 8.13 plays/unique visitor and desktop up to approximately 5 plays/unique visitor.

As far as how viewers find their way to videos, 58% went directly to the destination site, 20% from search and 16% from affiliates. Facebook was the most popular social referrer with 81% share, followed distantly by Twitter with approximately 12%.

For the report, Adobe analyzed 22.5 billion online video starts, including 500 million+ on mobile devices and 574 million+ TV Everywhere streams. The full benchmark report is available here.

Separately, Adobe also announced that its Primetime platform will be used once again by NBC Olympics to deliver live and on-demand video from the Sochi Winter Games to desktops and mobile devices. The Winter Games will be the first time that ALL events will be streamed live (over 1,000 hours) as well as available afterwards on-demand. Jeremy Helfand, VP, Primetime, told me Adobe has been further hardening Primetime since the 2012 Summer Games and that there are several innovations for Sochi:

- A partnership with Microsoft to have its Azure Media Services provide all back-end video processing.

- Expansion of "auto-authentication" to subscribers of Cablevision, Comcast, Cox, Midcontinent and Verizon so they don't have to login to view video streams while viewing at home.

- Delivery to Comcast X1 set-top boxes - the "Live Extra" app will allow subscribers to replicate the online experience on their TVs.

- Dynamic insertion of ads in live video streams across devices. Expanding on dynamic insertion of ads in on-demand streams, Primetime will swap in online video ads in the place of broadcast TV ads for viewers.

- A free 30 minute preview window before needing to login with their credentials. A 5 minute per day free viewing period will also be allowed.

All in all the upcoming Winter Games are poised to be the most connected, flexible viewing experience yet, illustrating how online and mobile are completely re-inventing sports broadcasting.