Wednesday, August 8, 2012, 9:59 AM ET
|
If you catch up on your favorite TV programs by watching them online, then no doubt over the past year you've noticed, as I have, that ad volume has been growing. A new report from ad manager FreeWheel substantiates the trend: the number of video ads in long-form content (20+ minutes) has more than doubled, from just over 3 in Q1 '11 to almost 8 in Q2 '12. But in a very encouraging sign for both content providers and advertisers, an amazing 91% of these ads (including pre, mid and post-roll) are viewed to completion, the highest level FreeWheel has yet measured.
FreeWheel's report is based on 12.5 billion video views generated by its U.S. customers and 10.1 billion video ad views.

The data appears to support the idea that viewers are willing to watch more ads in exchange for TV programs being free and conveniently available online. In a landscape where TV advertising is challenged by DVR penetration in half of all U.S. homes enabling easy ad-skipping, newfound viewer tolerance for ads is very good news for content providers and advertisers.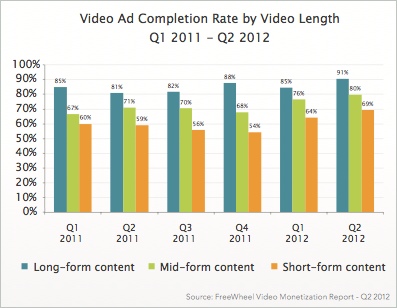 The convenience factor seems to be getting stronger, as consumption on non-computer devices has also grown. FreeWheel found viewership on non-computer devices doubled to 8.2% in Q2 '12 vs. Q1 '12. FreeWheel doesn't break out viewing by smartphones, tablet, gaming consoles and connected TVs, but I'd bet the surge is largely due to tablet (mainly iPad) viewing, once again underscoring the device's game-changing impact.

Beyond greater convenience though, I think another factor at work is the quality of the content and the loyalty viewers feel toward it. These were the points that Marc DeBevoise, CBS Interactive's SVP/GM of Entertainment, made at this past June's VideoNuze Online Video Ad Summit. Marc noted that CBS is seeing 96%+ completion rates on ads in its full episode TV programs, and that the ad load is now on a par with on-air. His point is simple, yet is often overlooked: if people feel compelled by the content, they will sit through the ads. Conversely, if they don't, they won't. Bottom line - don't underestimate how important producing great TV programs is in driving ad viewing.

It will be interesting to see how ad loads and completion rates play out in coming quarters. If content providers get too greedy and bump up ad loads too aggressively, no doubt completion rates will fall. As well, if high ad loads are inserted uniformly against content regardless of its quality/loyalty, completion rates will also fall. Online delivery is still in its infancy with much still learn. The FreeWheel data is indeed encouraging, but content providers need to remember that with viewers increasingly in charge when, where and how to watch, monetization needs to be treated delicately.
Beet.tv has a good interview with FreeWheel's VP, Marketing JoAnna Abel here.