Tuesday, August 2, 2011, 9:33 AM ET
|
For those fearing that video consumption through mobile and connected devices threatens to disrupt traditional linear TV viewership, a new study suggests it's not happening en masse, at least not yet. The study, fielded by Nielsen and the Cable & Telecommunications Association for Marketing (CTAM) indicates that 85% of video app users are watching the same or more regularly scheduled TV. There's no trend data however, so it's not clear how the amount compares to a year or two ago.
Further good news is that video apps appear to be adding value to TV programs and TV networks. As the below graphic shows, 46% of video app users report more engagement with the program/network, 35% report more visits to the program/network web site, and 37% report watching more associated programs or networks.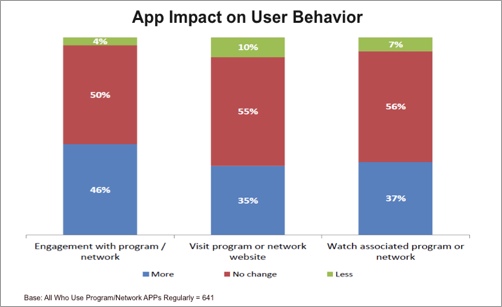 (Video apps are defined as enabling video viewing, sharing views or content via social media (Twitter, Facebook, etc.), running interactive second-screen experiences and/or browsing TV listings and programming the DVR. Video apps covered can be pre-installed, or downloaded for free or purchase.)
However, the study notes that it's still early days for video apps, as there are just 16 million users today (13M smartphones and 3M tablets), which has increased by 36% since Q3 '10. The most important attribute of video apps is free/low subscription rates (cited by 63% of respondents), followed by wide genre available (47%), user-friendly interface (43%) and availability of new video content to watch (42%).
Meanwhile video apps appear to be a home-based phenomenon today: approximately three-quarters of smartphone, iPod Touch and tablet users report using the devices for video apps most often at home. Assuming most of this usage is occurring on home Wi-Fi networks, that's very good news for mobile carriers who have lately been capping mobile data consumption due to exploding usage.
The study included a qualitative phase held at the Las Vegas "CBS TV City Media Lab, with adults 18-49 and a quantitative phase via online survey of 1,510 respondents. All were owners of some combination of mobile and connected devices and had used video apps in the last 30 days.