Monday, June 1, 2015, 11:30 AM ET
|
Here's some data that contradicts conventional wisdom: in a new survey from Clearleap, 67% of pay-TV subscribers said sports are not the reason they maintain a subscription, citing viewership of programs on other TV networks instead. Even sports fans didn't express a lot of enthusiasm for sports as justifying the multichannel bundle, with almost half citing other programs they watch as requiring a subscription.

There has always been a strong industry consensus that live sports were the firewall for pay-TV's multichannel bundle. Even as entertainment programming has proliferated in OTT services and elsewhere, the only place to get marquee sports programming was on pay-TV. Therefore, the reasoning went, sports were the "glue" keeping subscribers on board.
If in fact sports are not as sticky as thought, cord-cutting and cord-nevering could accelerate. As I've asserted in the past, for entertainment-focused, economically-challenged or younger viewers (or any combination of the three), inexpensive OTT services are increasingly viable alternatives, especially with HBO Now and others coming to market. However, the absence of sports in these services meant fans still needed their pay-TV subscription.

Sports fans also didn't express strong interest or willingness-to-pay for standalone streaming sports. Over half (51.3%) said they wouldn't pay for standalone streaming sports service, with 38.6% saying they'd only pay $20 or less per month (another 8% said they'd pay $21-49 per month, and 4% said they'd pay $50 or more per month).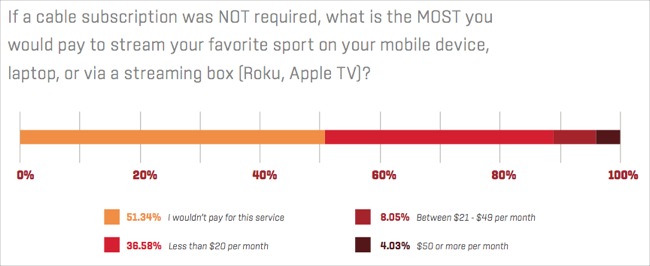 The survey also asked about TV Everywhere, and found that 57% of pay-TV subscribers have never used it. Among sports fans using TV Everywhere, watching TV shows was most popular (cited by 51.4%) followed by sports (cited by 23.8%) and movies (21.9%). Over 46% of sports fans said they didn't use TV Everywhere because they either didn't know about it, didn't know how to log in, or found it too hard to use. No surprise then that the survey found 87% of sports viewing is still occurring on the TV.

The data is based on an online survey of 435 consumers, age 18-49 years-old in January 2015.