Yesterday's Internet TV Advertising Forum/Maven Networks webcast "Pre-Roll vs. Overlay: Consumer Reaction to New Online Video Advertising Formats" yielded a lot of interesting usability information about various broadband video ad formats. For any content provider or aggregator who's relying on advertising as their business model of choice, it's clear that there are some significant opportunities and challenges ahead.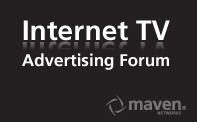 Below is a summary of the 5 key usability conclusions I heard in the webcast along with my take on each:
1. Users hate pre-rolls. Respondents overwhelmingly agreed that video ads are annoying and have developed the same kinds of coping techniques (tuning out, bailing out, etc.) they use to avoid TV ads.
My take: Yes, but unfortunately for users, I don't see pre-rolls going away any time soon. They're easy to execute, fit media buying habits well, are selling strongly especially for high-quality long-form video and best for advertisers seeking a tonic from DVR behaviors, pre-rolls can't be outright skipped by users. Given all this, let's all hope that targeting improves and publishers use them with some discipline, so users don't preemptively turn off to the broadband video medium.
2. Overlay ads' effectiveness is correlated to content fit, not demographics. Testing showed that users welcomed ads for products that were highly related to the content itself, and lost interest the less related the two were. Demos were less important.
My take: This point reinforces the importance of contextual targeting, which of course has worked well on the Internet as a whole. Yet as Bob Kernen at Maven says, a lot of content is "non-endemic" (i.e. doesn't lend itself to specific products or ads), so my guess is that this correlation opportunity is going to be lost for many content providers. Network programs in particular seem non-endemic and therefore will need to rely mainly on demo-based and possibly behavioral targeting.
3. Overlay ads need better execution to work well. Jeff Rosenblum from Questus summarized 8 best practices for executing overlay ads, such as appropriate frequency and duration, user control, calls-to-action, navigation and the like. For anyone looking to run an overlay campaign (and even for those who have), these serve as a great roadmap of do's and don't's.
My take: As always, executing right can make the difference between a campaign's success and failure. If you're planning to run an overlay campaign, I highly suggest you review this checklist against your plans to make sure you haven't overlooked anything.
4. It's difficult to engage an audience. The testing again showed how hard it is to engage online audiences, regardless of approach. Bob laid out a handy engagement hierarchy, Impression, Interaction and Immersion (from least to most engaging). Knowing what level of engagement your campaign aspires to must guide specific tactics and execution.
My take: Getting the consumer's attention and prompting them to act is the ad industry's oldest goal. It's even harder in the broadband sector. People have shorter attention spans than ever, so grabbing them and getting them to do what you hope gets more difficult all the time. Fortunately video offers emotional appeal unlike any text or graphical ad in the Internet world, so broadband offers new engagement techniques previously unavailable.
5. More research needed. While this first round of usability testing from the Internet Ad Forum shed a lot of new light on the broadband ad opportunity, it's clearly just a first step. The Forum has ambitious goals to keep researching and testing, continuously educating the market.
My take: As I mentioned in my remarks at the beginning of the webcast, everyone has a vested interest in solidifying the ad model as soon as possible. The enthusiasm around broadband will soon dry up if participants don't earn an acceptable ROI for their efforts.