Wednesday, June 26, 2013, 10:20 AM ET
|
SVOD services like Netflix, Hulu Plus and Amazon Prime Instant Video are all the all the rage these days and a core part of their popularity is their ever-expanding library of TV series. No question, binge-viewing a TV season or series on an SVOD service is now one of life's little pleasures.

In SVOD's wake, one technology that always seems to get overshadowed is the DVR. But, according to data from NPD, watching TV shows on DVRs is actually more than twice as popular as watching them on SVOD services like Netflix. When asked how they watched TV shows in Q1 '13, viewers cited DVR/TiVo 42%, and SVOD 16%. As seen in the chart below, DVR/TiVo was in third place, after linear viewing on the TV network itself.
Admittedly, the data is impacted by the fact that Netflix only has prior seasons of TV shows ("Arrested Development" being the obvious exception), whereas if you're a pay-TV subscriber, ALL TV series are available for recording. It's also worth noting that a little less than a third of U.S. households now subscribe to Netflix, whereas over half now have a DVR. One last interesting point is that free VOD/PPV from pay-TV operators was cited by 18% of viewers, a nod to pay-TV operators' years-long efforts to push VOD.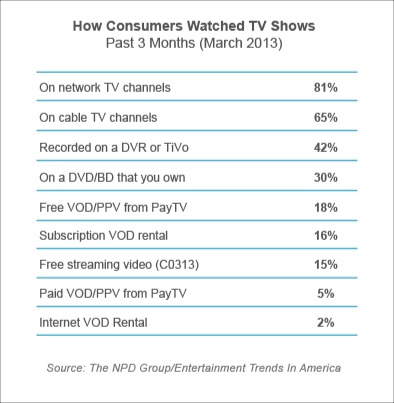 When it comes to movies, DVR popularity outpaces SVOD by almost 2 to 1, with DVR viewing at 36% of how movies were watched vs. 19% for SVOD. More surprising for movies however, is that viewing via owned DVDs or Blu-ray discs was tied for first place at 59%. And rented DVDs/Blu-ray from a kiosk was at 21%, another indicator that the format continues to live on, despite Netflix's urgency to switch subscribers to streaming-only.

In the blog post discussing the data, NPD's SVP, Industry Analysis Russ Crupnick notes the data shouldn't be read as "disc good, digital bad" but rather that many consumers have "yet to catch up with where distributors, services and retailers want them to be." I think that's well said. As has also been shown by the failure of 3D to catch on despite all the TV industry's best efforts, it is still the consumer who will decide which new formats to adopt, and at what pace to do so.