Thursday, July 20, 2017, 10:26 AM ET
|
Videology has released its latest Knowledge Lab research report which is focused on first-party data and how it is being used to help target video ads. Among the highlights of the report are that 25% of video campaign impressions Videology now serves use first-party targeting. Overall, the percentage of video campaigns using first-party data has increased from 5% in 2015 to 11% in the first half of 2017.
First-party data is collected by a company about its own customers or web site visitors and is then often stored in a third-party data management platform (DMP) for the company to use in retargeting or customizing subsequent marketing messages.

A survey Videology commissioned Advertiser Perceptions to conduct for the Knowledge Lab found that 69% of digital advertisers use first-party data for media planning/buying, 61% use it to develop insights about their customers and 50% use it to maintain customer relationships. Given the disparity in usage of first-party data for digital vs. video-specific campaigns, it's clear that it's still relatively early days for advertisers to use first-party data for video.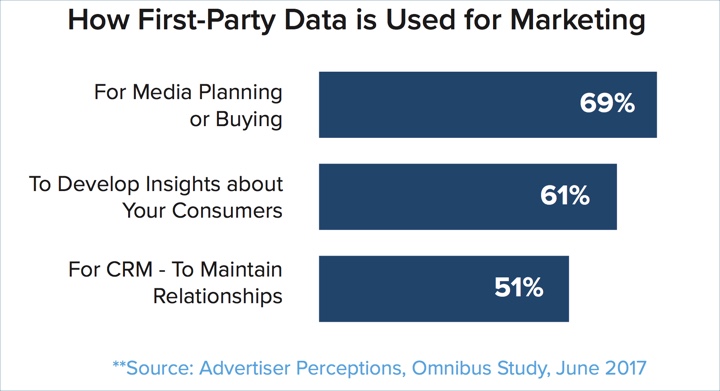 The survey found that retargeting existing customers was the most prevalent use of first-party data (cited by 64% of respondents), followed by measuring the effectiveness of a media campaign (58%), tailoring the messaging based on past purchases/actions (52%) and building lookalike models from existing customer profiles (45%).

The Knowledge Lab notes that there are multiple challenges related to first-party data, which likely explain why it has not yet been widely deployed in video campaigns. The challenges include the cost of collecting and maintaining first-party data, the requirement for critical mass / sufficient scale of the data itself to ensure it is useful and the need to implement it in a way that is actually beneficial. Overall, Videology found that almost 30% of survey respondents thought activating first-party data is difficult. Videology recommends that working with an appropriate DMP or ad tech partner is essential.

In the Knowledge Lab, Videology said that it encourages its clients to use first-party data whenever possible and that it specifically enables clients to use first-party data to drive their linear TV campaigns via Nielsen data. Videology has also partnered with major DMPs including Acxiom, Oracle, Nielsen, Krux, Lotame, Adobe, Neustar and KBM Group.