Monday, July 24, 2017, 12:06 PM ET
|
U.S. adoption of Netflix, Amazon Prime and/or Hulu is up to 64% of homes, an increase from 47% in 2014, according to Leichtman Research Group. Of those who have one of these SVOD services, 51% now have more than one of them, up from 35% in 2014.

On our podcast last week, Colin and I talked about how the number of people taking multiple SVOD services has become a central trend in the industry and is helping spur growth for all providers. Both Amazon's Jeff Bezos and Netflix's Reed Hastings have insisted over the years that people will take multiple services, and that appears to now becoming reality.
In addition to SVOD subscriptions increasing, usage is as well. On a monthly basis 54% of U.S. adults report watching one of the services, up from 41% who reported doing so in 2014. On a daily basis 29% of U.S. adults report watching one of the SVOD services, almost double the 16% that reported doing so in 2014. Over half (51%) of adults 18-34 years-old use SVOD daily, up from 33% in 2015.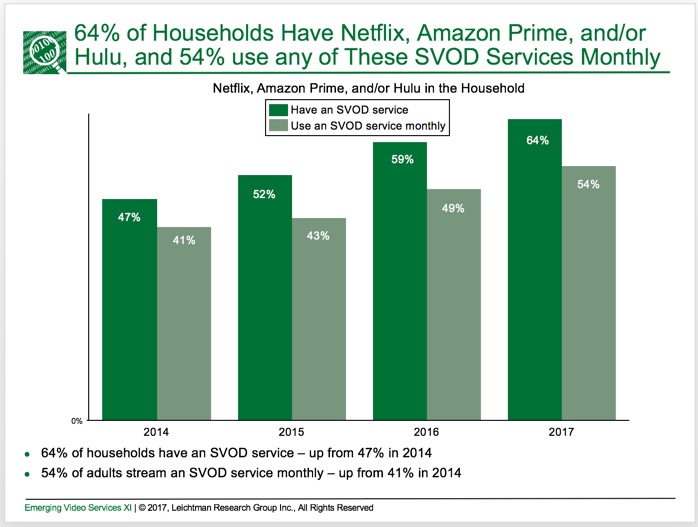 The adoption and usage numbers speak to how broadly and deeply SVOD is now a part of the American viewing landscape. Combined with the massive proliferation of connected TV devices, SVOD is becoming a critical part of the living room experience for millions of homes. Inevitably that's bad news for the pay-TV industry, which of course, has long owned the living room for premium video.

While LRG also reported that 62% of pay-TV subscribers take an SVOD service (vs. 72% for non pay-TV subscribers), the question looms what impact multiple SVOD subscriptions and their prominence in the living room is having on cord-cutting. As the pay-TV industry reports its own Q2 results over the next couple of weeks, any signs of serious deterioration in video subscriber numbers will fuel the cord-cutting tsunami meme.

LRG also said that 83% of those with an SVOD service have Netflix, once again underscoring the company's prominence. Netflix may not yet be a "Kleenex" brand in SVOD, but it's getting pretty darn close.