Online video ad network BrightRoll has released results of its Q1 '11 survey of media buyers' attitudes towards online video, and no surprise, they are yet again quite bullish. Several data points highlight online video's growing appeal; in particular the survey found 65% of respondents said they plan to shift campaign dollars from TV to online video. Beyond TV, as the chart below shows, display advertising is actually the spending bucket likely to see the biggest shift to online video, with 86% of buyers planning to move some of their display budget to online video.
Importantly, 28% of media buyers forecast online video will see the largest increase in spending in 2011, with mobile video right behind at 27%. Online video is also becoming a more common component of all ad campaigns, with 27% of media buyers saying that over half of their request for proposals included an online video component. 41% of buyers reported targeting as the most valuable aspect of online video advertising to their clients. Within targeting, the most beneficial form is behavioral, followed closely by contextual and demographic.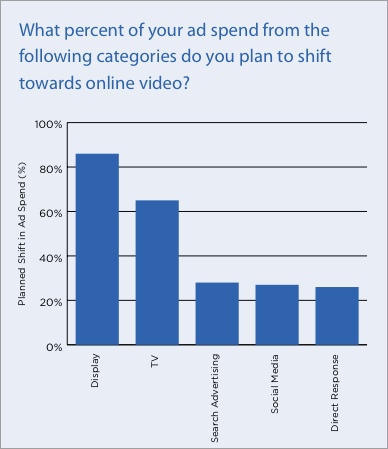 Still, as the survey shows, online video advertising has its challenges. At the top of the list are better success metrics and ROI, which were cited by 36% and 26% of respondents respectively. In addition, the costs of online video advertising are perceived as too high, with 23% suggesting lower costs would spur more interest (though note, this number is down 9% from the prior year's survey). Additional research is also seen as being valuable, with 96% agreeing it provides value to clients. The two biggest areas of data sought are performance vs. TV advertising (29%) and change in purchase intent or brand lift (28%).
Overall, the survey continues to underscore strong interest among buyers in online video, while recognizing that it's still a relatively new ad format. Continued education is needed about the opportunities and ROIs. With so many players invested in the market, there's no doubt that more supporting data like Brightroll's will be forthcoming.

Click here to download the full survey results.
Note: if you want to learn more about online video advertising from leading industry executives, join us at ELEVATE: Online Video Advertising Summit on Tues, June 7th in NYC. Early bird discounted tickets are now available.