Thursday, February 4, 2016, 10:40 AM ET
|
GfK MRI has released results of a new study analyzing the amount of time nearly 6,000 smartphone users spend on different activities, finding that just 2% of time is spent watching video. Phone calls and texting are tied for first with 22% of time spent, followed by email and social media (both 10%). Overall GfK's category of "Entertainment," which includes web surfing, music, games, video, shopping and reading, accounted for 22% of time spent.
GfK found that across all generations - millennials, Gen X and Boomers - connecting was the most important value smartphones. Texting appears to be the most critical with 68% all respondents and 83% of millennials saying they text more than they talk by phone. Text would be the "most missed" feature if it weren't available.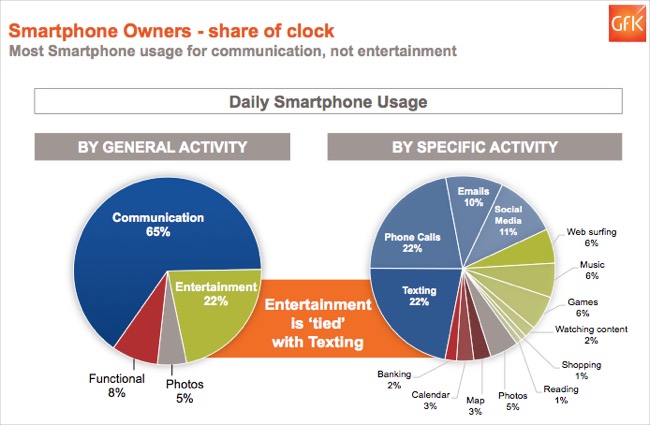 GfK also identified 5 mobile user segments, with 15% as "Entertainment Seekers." These are young, single, students and multicultural men who love technology and watching video. 71% of them see the smartphone as a source of entertainment to watch movies, TV programs and video clips.

The relatively low amount of time spent watching video on smartphones may seem incongruous given all of the excitement around mobile video these days. For example, just yesterday I wrote that Cisco is forecasting 75% of the mobile data traffic will be video by 2020, underscoring how data-intensive hi-res video is. Then there's YouTube and other services which say mobile accounts for 50% or more of their usage, plus new mobile-centric services like Verizon's Go90, which seem to be launching every week.

There's no doubt that mobile video is surging in popularity, but the GfK study is a reminder that in reality, it is still very early days. Mobile video has been held back by expensive carrier data plans, forcing most usage to WiFi. But that's now changing as carriers aggressively promote video with special data offers (e.g. T-Mobile Binge On, Verizon FreeBee, etc.). As well, mobile video advertising is still in its early days, as content providers and advertisers adjust to displaying sub 10-second video ads, vs. the 15 and 30-second ads typical on desktop and TV.

Going forward, there's little question that mobile video will become more popular. However, the smartphone is the ultimate Swiss army knife, capable of performing lots of different functions for users. While video will become more popular, all of these other uses will remain widely used as well.