Monday, March 2, 2015, 10:16 PM ET
|
Despite all the talk of massive cord-cutting being just around the corner, evidence continues to demonstrate that the U.S. pay-TV business remains relatively healthy. The latest, from Leichtman Research Group, shows that the 13 largest U.S. pay-TV operators, which together account for 95% of the market, lost just 125K subscribers in 2014. That was basically even with the 95K they lost in 2013 (see chart below).

LRG president and principal analyst Bruce Leichtman noted that the 220K subscribers lost over the past 2 years represents just about .2% of the operators' total subscriber base. Of course no business ever wants to lose customers, but given the dramatic rise in OTT usage and subscriber levels, along with the vast array of viewing options, losing just .2% over 2 years seems like a pretty good level of stability (consider that Netflix alone added 5.7 million U.S. subscribers in '14).
Cable operators in particular had a very good 2014, with the top 9 losing 1.195 million subscribers, 500K fewer than they lost in 2013, for their best showing since 2008. Telcos were about even, adding 1.05 million in '14 vs. 1.43 million in '13. Satellite had the worst performance, adding just 20K subscribers in '14 vs. 170K in '13.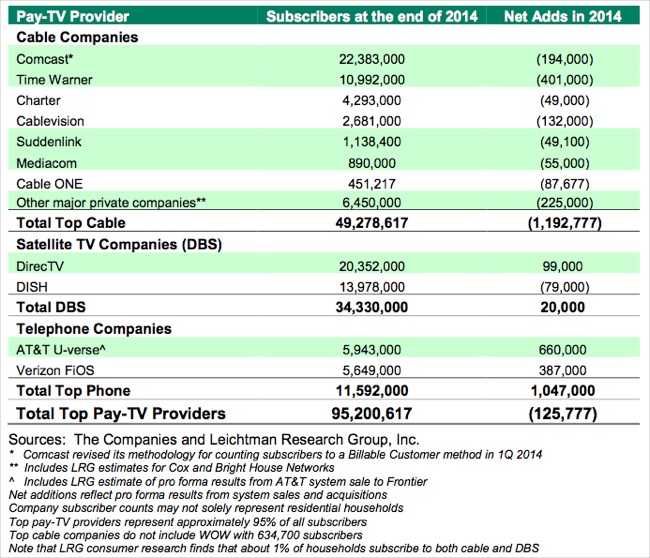 It's worth noting that last week, analysts MoffettNathanson observed that there were approximately 1.3 million new U.S. households formed in Q3 '14, the fastest rate in nearly 10 years. If you assume that a healthy portion of those households would have signed up for pay-TV, then the industry might have actually GROWN subscribers in 2014. The fact that it didn't led MoffettNathanson to conclude that the rate of cord-cutting or cord-nevering ticked up last year.

Needless to say, the cord-cutting debate will only intensify further in 2014 as TV networks' linear ratings continue to fall (especially for kids' networks), the quality and volume of online originals increases and mainstream media pays more attention to the topic.