Wednesday, February 18, 2015, 10:23 AM ET
|
Comcast said that in 2014 over 30% of its Xfinity TV subscribers used its TV Everywhere app ("Xfinity TV Go") on a monthly basis, representing a 20% year-over-year growth rate. The average Xfinity TV Go viewer watched over 7 hours per month via the app, up 40% vs. a year ago. Comcast said the Xfinity TV Go app for iOS and Android has been downloaded over 11 million times.
The increased usage looks like payback for the significant resources Comcast has poured into its TV Everywhere initiative. Comcast has bolstered both on-demand and live content, as well as developed unified mobile, online and on-demand apps. Plus Comcast has heavily advertised TVE. As an example, here in the Boston area, Comcast heavily advertises its TVE features on radio, in print and in outdoor. And when I was recently in Atlanta's Hartsfield-Jackson airport, I noticed that Comcast also has significant signage throughout the terminals (example below).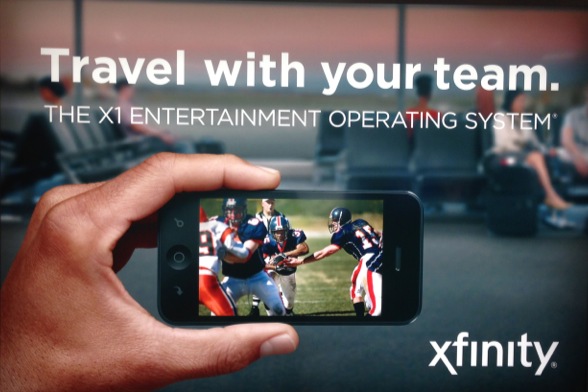 Comcast also said over 70 TV networks are now available for live streaming in Xfinity TV Go. There are around 21K on-demand choices available on mobile devices and 466K available online.

Comcast noted that marquee sports events played a big role in educating subscribers about TV Everywhere as a value add to their subscriptions. 2014 included not only the Sochi Olympics and World Cup, but also NBA, NHL and college basketball playoffs as major TVE events.

More recently, NBC just hosted its "Super Stream Sunday," 11 hours of continuous TVE access before, during and after the Super Bowl. FreeWheel (acquired by Comcast in 2014) consistently shows the major impact sports and live viewing have on TVE in its quarterly Video Monetization Reports.

TVE has grown in fits and starts since being unveiled 5 1/2 years ago. Challenges have included content rights, authentication/technology, user experience and awareness. The pay-TV industry has been chipping away at all of these, and certainly the growth of OTT services like Netflix, Hulu and Amazon, plus the advent of new entrants like Sling TV, are key motivators for the industry to keep at it.

Viewers' expectations about anytime/anywhere/any device access to great content is only accelerating, and I continue to believe TVE is the pay-TV industry's most potent weapon to demonstrate the value of its expensive (relative to OTT) monthly video service and limit cord-cutting/cord-nevering.