Monday, December 17, 2012, 8:55 AM ET
|
Another great example of how video syndication is continuing to deliver results: in November's comScore rankings of U.S. sports properties, Perform Sports edged out perennial leader ESPN in number of total monthly unique viewers. As the chart below shows, Perform had 24.532 million viewers and ESPN had 24.092 million. Yahoo Sports is a distant third with 9.988 million, followed by another syndicator, CineSport, with 8.367 million and NFL with 5.936 million.
As I've written before, Perform's model is 100% based on acquiring rights to distribute video to its third party network of publishing sites. Rather than focus on building a destination site like ESPN or Yahoo or other major properties, Perform operates in what I've called the "syndicated video economy" where the emphasis is on bringing content to audiences, wherever they are, rather than in driving them to one central destination. Syndication has become a major online video theme in 2012, with 3 of comScore's top 10 video properties - AOL, NDN and Grab Media - all syndication based.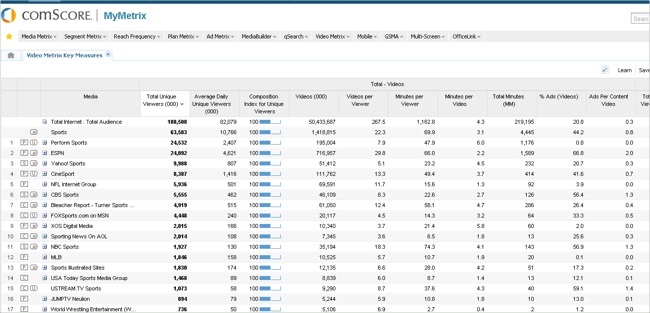 In fact, November was kind of a perfect storm for Perform, as viewers rose 51% from 16.250 million in October. Juan Delgado, Managing Director, Americas, told me last week that the big catalysts for November's results were the acquisition of rights to distribute NFL clips, the addition of new publishing partners and placement of its video player on numerous home pages instead of just sports pages. Key contributors in the latter category were ChicagoTribune.com, Boston.com, BostonHerald.com, SFGate.com and Freep.com. In all Perform now has 350 publishers in its network.

While Perform was tops in viewers, ESPN still dominates in every other category - videos viewed (717 million), videos per viewer (29.8), minutes per viewer (66) and percentage of ads (67%). Juan notes that the benefits of being a destination site are that ESPN has an engaged and faithful audience, which ESPN can program to, just as it does on TV. Conversely, Perform's use case is more for quick updates, the way we read news, for example, online. It should be noted also that Perform, like many video properties, uses "auto-play" so videos are running even the user may not actually be watching.

In Juan's view, Perform and other syndicators play a valuable role for big media properties, like sports leagues, in driving views and monetization. Rather than have an extensive business development and operations team to assemble hundreds of its own distribution deals, rights-holders can work with Perform, and others, to simply license and deliver content, and then receive their monthly revenue shares.

Perform is unlikely to retain its top spot in viewers consistently, but the fact that it has broken through in November is additional evidence of how syndication is playing a major role in the online video ecosystem.