Thursday, January 16, 2014, 10:06 AM ET
|
Videology released the findings of a Forrester Consulting survey yesterday, which studied attitudes toward video advertising among 150 executives at brands, agencies and media companies. There are many interesting findings in the report and one that stands out is that nearly 70% of brands and agencies think it's likely or very likely that agencies will unify the planning of video and TV campaigns within the next 3 years (though note only 52% of media companies believe so).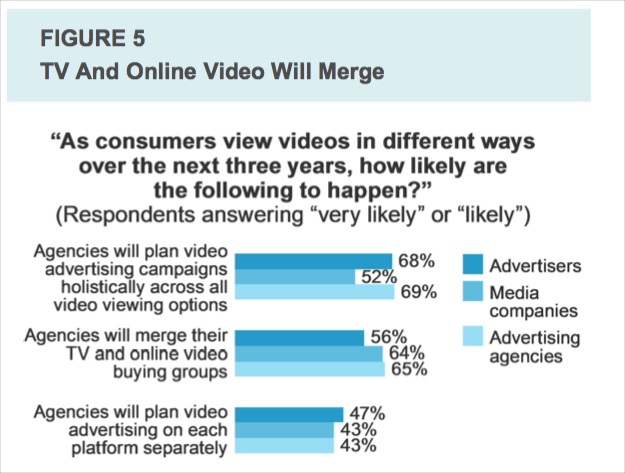 More respondents see digital buying agencies leading all of the video planning rather than traditional media buying firms. And more believe that buying linear TV will become more like online video ad buying than vice versa (see below)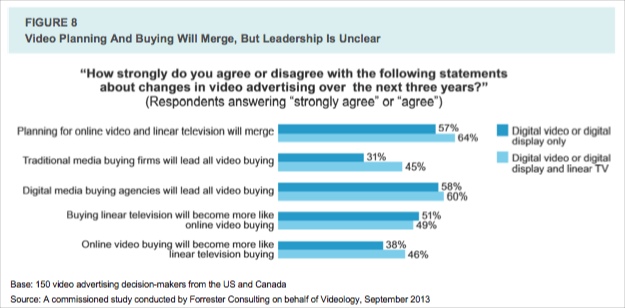 Overall, survey respondents are bullish about video's adoption over the next 3 years and the impact of this on the advertising ecosystem. A majority of respondents see viewers embracing more online originals, streaming TV episodes, OTT services and VOD across an array of Smart TVs, connected and mobile devices.

This will create the primary benefit of being able to reach consumers not typically exposed to ads on TV and targeting certain types of consumers. The majority of respondents also see media companies increasing their overall ad revenue by selling video ads and also increasing ad effectiveness.

Despite the optimism, the survey revealed many challenges and differences of opinion. At the top of the list of challenges for brands and agencies, no surprise, is measurement, cited by 50% (for media companies it was edged out by managing different ad technologies for devices). Brands and agencies believe that there should be standards for gross rating points (GRPs) in online video, which help in cohesively planning campaigns with TV. Media companies are less enthusiastic about GRPs, with only about a 1/3 using them for online video.

In addition, the survey revealed a split between embracing new ways of buying vs. old. For instance, while programmatic and buying across all screens was cited by around 70% of respondents as an important future capability, approximately the same level said that the traditional ability to buy ads on specific programs was important.

There's a ton of data and useful charts in the full report, which can be downloaded here.
At VideoSchmooze this past December, Videology's Chief Scientist Kevin Haley provided a preview of the survey:


(Note: Videology is a VideoNuze sponsor)