Tuesday, October 31, 2017, 11:45 AM ET
|
We're all consuming more and more video in our personal lives, so it's no surprise that businesses are realizing that they too should be using video to connect with target audiences in multiple ways. To get a better sense of how businesses are scaling up their video efforts, Wistia, a platform for business videos, released its first "State of Video for Business" report.

Wistia has over 300,000 business customers in 50 countries which uploaded 6.7 million videos so far in 2017 totaling nearly 60 million minutes. Total minutes uploaded have increased from 18.1 million in Q1 to 21.3 million in Q3. There are lots of different internal and external ways that businesses use video these days, and in Wistia's gallery, 5 main categories are identified with examples of each: Marketing, Support, Sales, HR/Culture and Product.
Video plays have increased from 336.8 million in Q3 '12 to 371.1 million in Q3 '17. No surprise, video consumption mostly happens during the week, with the early part of the week the most popular time. In Q3 '17 over 25 million minutes of Wistia videos were watched on an average weekday. 52% of videos uploaded were 3 minutes or shorter.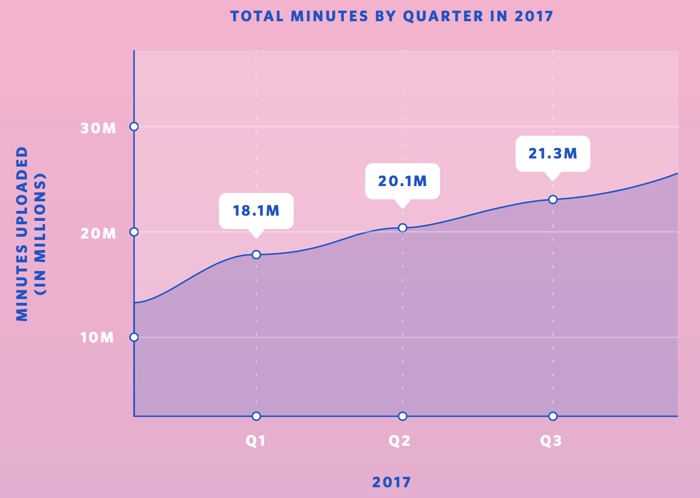 One of the critical ways that Wistia videos are used is to capture viewers' email addresses for lead generation. Wistia has an email capture feature called Turnstile, which creates a gate requiring email info to watch the video. In Q3 '17 Wistia customers captured 468K email addresses, up from 369K in Q3 '16.

Wistia counts among its customers HubSpot, MailChimp, Sephora, Starbucks, Tiffany & Co. among others. With video becoming so pervasive, it stands to reason that more and more businesses will be jumping on the bandwagon and using video internally and externally. Wistia looks poised to benefit from these trends.

The full report can be downloaded here.