Just before the Thanksgiving buzzer went off for many last Wednesday, comScore released its October 2009 Video Metrix data under the banner headline "Hulu Delivers Record 856 Million U.S. Video Views in October During Height of Fall TV Season." Hulu's 856 million views (which are 47% higher than its September total of 583 million) are indeed eye-grabbing. When viewed in the context of Hulu's performance to date, as tracked by comScore since May, 2008 shortly after the site's launch, it's possible to glean a number of valuable insights.
Below is a chart with comScore's data for Hulu's total monthly video views and unique visitors since May '08. The blue bars would make any online content CEO swoon; in the 18 months since it launched, Hulu has increased its monthly views nearly 10-fold, from 88.2 million in May '08 to this past October's 856 million.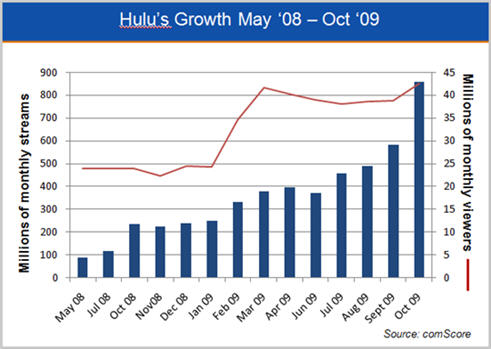 Two clear viewership spikes are noticeable - from July '08 to Oct '08 there was a 97% increase in views (from 119.3 million to 235 million) and from July '09 to Oct '09 there was an 87% increase (from 457 million to 856 million). It should be noted that the Nov '08 total of 226.5 million was down nearly 4% vs. Oct '08, potentially foreshadowing a decrease to come in Nov '09 as well. Other than this dip, there has been only 1 other sequential monthly drop in Hulu's views, a 6% drop from April '09 to June '09. Taken together, Hulu's steady, yet dramatic increase in viewership is remarkable.
On the other hand, I believe the red line in the chart, showing unique monthly visitors, raises some concerns. You'll notice that after a solid 20% jump in uniques from Feb '09 (34.7 million) to March '09 (41.6 million), unique visitors have stayed in a fairly level range through Oct '09 (42.5 million), with uniques actually below the 40 million mark for Jun-Sept. This contributes to a theory I've been developing about Hulu for some time now: in its current configuration, I think it's quite possible that Hulu has saturated the market for its content and user experience. This isn't a hard-and-fast conclusion, but it's worth noting that even with the addition of the ABC programs, Hulu's uniques are scarcely better than they were 6 months ago. Unless the unique number jumps in the coming months (and I doubt it will), Hulu will have to meaningfully enhance its value proposition to grow its audience (can you say "Hulu-to-the-TV-via-Xbox/Roku/Apple TV/etc?").
As the blue bars in the chart below show, usage of Hulu by its users is growing nicely. According to comScore, the average Hulu viewer viewed 20.1 videos on the site in October, up 33% from September's 15.1 videos, and nearly double July's 10.1 videos. In October Hulu drove almost double the number of videos/viewer as the Microsoft (11.1 videos) and Viacom (10.3 videos) sites, though it still lags the Google sites, which are primarily YouTube (83.5 videos) by an enormous margin. As I've said many times, YouTube is the month-in-and-month-out 800 pound gorilla of the online video market.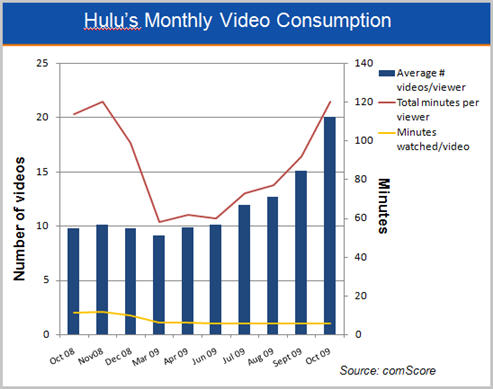 As shown by the red line in the chart, the 120 total minutes viewed per Hulu viewer is roughly even with Nov '08. However, it's possible that comScore was measuring this differently a year ago, as Hulu's minutes per viewer drop dramatically and oddly, from Nov '08 to Mar 09 (58 minutes). Since that time though Hulu's minutes per viewer have steadily increased.
That said, as the yellow line shows, the minutes watched per video have stayed remarkably constant, hovering in a very narrow range around 6 minutes since Mar '09. Hulu's users are spending more time on the site watching more total videos, but it seems they watch a very consistent mix of short clips and longer programs each month. In fact, while Hulu is commonly thought of as a site for full-length TV programs, only 1 of its top 10 most popular videos of all time is a full program and not a short clip, and only 6 out of its top 20 videos are full programs (though the mix may be changing as this month 8 out of the top 10 and 16 out of the top 20 most popular are full programs). To the extent that Hulu viewers stick with a program to its end, the current month's usage would suggest that minutes watched per video is poised to increase, along with it revenue per user session, which is an important barometer of the site's success.
With its exclusive access to 3 of the 4 broadcast networks' hit programs, Hulu has significant competitive advantages, which it has further capitalized on with its superb user experience. Despite positive and encouraging reports about its ad sales efforts, Hulu still has a long way to go to prove it can monetize its audience as effectively as its parent companies can do with programs viewed on-air. As a result speculation about a Hulu subscription service (which I consider inevitable) will continue to loom.
Other variables affecting Hulu's future also swirl: what will Comcast do if/when it acquires NBCU and therefore becomes a Hulu owner? What happens to Fox's programs on Hulu should Rupert Murdoch expand his focus beyond his newspapers' online content going premium? What if Disney decides to launch its own subscription services? What if Google or Microsoft or Netflix (or someone else) decides to open their wallet and make a bigger play in premium online video?
Hulu is still a relatively young site and the insights above are not fully conclusive, especially because they're based on 3rd party data. Hulu has clearly built a solid brand and user experience. Its monthly performance is well worth following.
What do you think? Post a comment now.